Brother shoots brother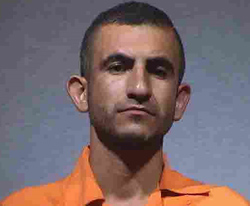 The Garland Police Department responded to a gunshot wound call in the 3500 block of Clover Meadow Drive Sunday, Nov. 5, around 6:30 p.m. Upon their arrival, officers found a male in the alley behind the residence suffering from several gunshot wounds. The male was transported to Presbyterian Hospital of Rockwall where he was later pronounced dead. Homicide detectives responded to the scene and learned that the victim, 37-year-old Jose Perez and his brother, 28-year-old Isidro Perez (a resident of Dallas), were involved in a verbal argument.
The argument turned physical and Isidro got into his Chevrolet Avalanche, rolled down the passenger side window and shot several times striking Jose.
Isidro fled the scene before officers arrived but Garland detectives were able to track the suspect to Dallas where he was apprehended.
Isidro Perez is charged with murder and is currently in the Garland Detention Center with no bond.