Join GCT for 'And Miss Reardon Drinks a Little'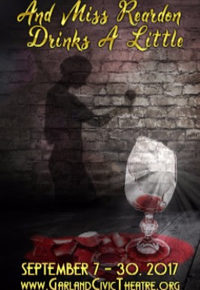 Garland Civic Theatre was founded in 1968 and is the oldest community theatre in Dallas County. To celebrate, the organization will present a spectacular season of theatre filled with mystery, laughter, music and love. They are proud to present "And Miss Reardon Drinks a Little" by Paul Zindel as the next production. This biting, touching, and often wildly funny play probes deeply into the tortured relationship of three sisters whose lives have reached a point of crisis.
Their father having deserted them in their childhood, the three Reardon sisters have grown up in a house of women, dominated by their mother, who is only recently dead. But time has erased the tender closeness of girlhood. One sister has married and cut herself off, another has begun to drink more than she should, and the third, after a scandalous incident at the school where she teaches, is on the brink of madness. When the married sister comes to dinner to press the need for committing her sibling to an institution, the simmering resentments of many years burst alive and are exacerbated by the intrusion of a well-meaning but boorish neighbor couple, whose unexpected arrival impels the action towards its shattering conclusion – in which all the pathos, humor and searing honesty of the play combine with overwhelming effect.
The talented cast features Mary Ellen Alexander as Anna Reardon, Marilyn Twyman as Catherine Reardon, Brandy Townsend as Fleur Stein, Jacob Drum as Bob Stein, Peyton Hayslip as Ceil Adams and Mildred Austin as Mrs. Pentrano. The production is directed and designed by Kyle McClaran.
Performances are Thursday, Sept. 7, through Saturday, Sept. 30, in the small theatre at the Granville Arts Center at 300 North Fifth Street in Garland. Performances include a Thursday night preview performance, Sept. 7, at 7:30 p.m., Friday and Saturday evenings at 8 p.m. and Sunday matinees, Sept. 3 and 17, at 2:30 p.m.
Tickets are available now! Order online at www.garlandartsboxoffice.com or call the Granville Arts Center box office at 972-205-2790. Ticket prices range from $12 – $17.
Discounts are available for KERA members and groups of 10 or more. Garland Civic Theatre 2017 – 2018 50th Anniversary Season is sponsored by the Garland Cultural Arts Commission. Please visit www.garlandcivictheatre.org or call 972-485-8884 for additional information.