Kona Ice franchisee gives back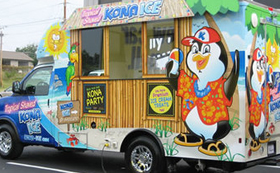 Local entrepreneur Tiffany Sutton recently traded in her corporate insurance agent career to start her own charitable shaved ice business — Kona Ice of East Dallas County. She will be cruising for a cause throughout Garland and Dallas with a mobile shaved ice truck featuring a tiki hut top, self-serve flavor wave and wild flavors such as pickle and tigers blood.
Sutton plans to partner with local schools and nonprofits throughout the area to host "Kona Days" which allow administrators to raise money for underfunded programs and initiatives. They have the potential to raise thousands of dollars for schools, youth sports leagues and families in need.
Bringing tropical tunes and cups of shaved ice everywhere it stops, Kona Ice is introducing East Central Dallas County to its distinctive blend of entertainment and gourmet frozen treats. The experience is unlike any other in the area.
"The communities' first taste of our cool treats and colorful truck will keep them coming back for more," said Sutton. "It will only be a matter of time before our Kona truck captures the hearts, minds and taste buds of the neighborhoods I serve."
Kona Ice's escape from the ordinary begins as the sounds of tropical calypso music fills the air at each event and group gathering. The fun continues as all in attendance get their overflowing cups of freshly shaved ice and then help themselves to any of the ten tastes on the truck's Flavorwave™ (an interactive dispensing system in which individuals select from one or more of the flavors to pour over their fluffy snow) or the additional 20-plus flavors and 500 different combinations available.
"It's an opportunity to enjoy a unique, tropical treat," Sutton added. "For a few dollars you can experience the excitement of the truck, flavor your own Kona Ice, donate to an organization you care about and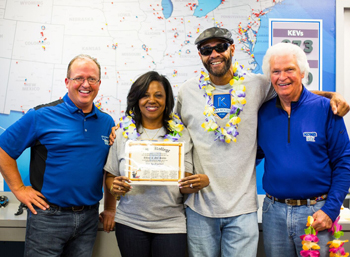 kick back for a few minutes enjoying the sounds of the tropics. It's an escape that everyone can enjoy."
Kona Ice of East Central Dallas County has a philanthropic commitment to the communities it serves. Sutton is continuing the mobile franchise's tradition of donating thousands of dollars each year to local school groups, teams and community organizations. As she books events with these groups, she pledges to give back a percentage of the proceeds from each stop.
"Tiffany shares our commitment to giving back," said Tony Lamb, founder and president of Florence, Ky.-based Kona Ice. "She wants to have a positive influence on the people in her community, whether it's new text books, sports uniforms or simply, a smile. We are proud to have her on-board."
Popular spots for the food truck franchise include stops throughout East Central Dallas and Garland at fairs, festivals, corporate events, neighborhood socials, church events and birthday parties. Tiffany's truck also maintains regular weekday and weekend routes.
To learn more, contact Sutton by email at tsutton@kona-ice.com or by phone at 972-742-1584.
About Kona Ice
A true community ally renowned for facilitating endless fundraising options, Kona Ice has given more than $40 million back to neighborhood schools, organizations and teams since 2007. The brand's iconic truck offers customers a one-of-a-kind experience, featuring the opportunity to create their own shaved ice on the self-serve Flavorwave™ while enjoying the soothing sights and sounds from the tropics.