LCHS, RHS advance in basketball playoffs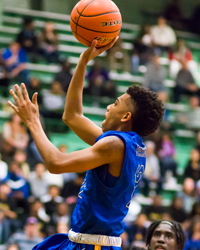 The area round games of the high school basketball playoffs were played Friday, Feb. 26, and two Garland ISD high schools got wins and will move on to the next playoff level.
The Lakeview Centennial Patriots got a 73-65 win over Richardson HS and will move on to the regional quarterfinals round to play Skyline HS. The game is Tuesday, March1, at Richardson HS at 7 p.m.
The Rowlett Eagles defeated Mesquite HS 64-49 and will also continue on the the regional quarterfinals round of the playoffs. They will go up against Killeen-Shoemaker Tuesday, March 1, in Groesbeck at 7 p.m.
The South Garland Colonels were defeated by McKinney North HS by a final score of 65-59.