Library receives Achievement of Excellence Award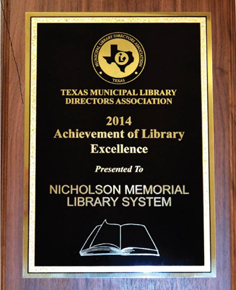 For the tenth consecutive year, Garland's Nicholson Memorial Library System is a recipient of the Achievement of Excellence in Libraries Award.
The Texas Municipal Library Directors Association presents the award to libraries that have demonstrated service excellence through the attainment of specific service criteria including: collaborative efforts, summer reading programs, enhanced services, marketing, web presence, staff training, and cultural, topical and educational programming for adults and families.
Garland libraries have received this award annually since 2005. To learn more about programs and services offered by the Nicholson Memorial System, visit GarlandTx.gov.