Local pastor publishes 'The Sabbath Challenge'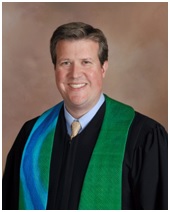 The coming of Christmas and the New Year always has people thinking about resolutions for the new year. And there is no greater accomplishment than taking time to honor the Sabbath. In the new Paul Burns book, "The Sabbath Challenge: Learning to Rest in a World that Never Sleeps," the author invites readers into a 16-week journey where rest, the true goal of the Sabbath, awaits.
The study, designed for individuals and groups, is a great individual goal as well as a goal a church group or a group of friends might agree to do together.
"Sabbath keeping can seem like an impossibility when our lives are crammed so full of obligations, responsibilities, distractions, worries and cares," says Burns, who calls rest a "radical act of faith."
"Yet learning to disconnect from the world for a day so that we might rest may be the most important thing we can do for ourselves — and for our relationship with God," he says.
The book provides a challenge for "all who seek rest from the world, says Burns, "a challenge to embrace the Sabbath and the peace it offers." With 2018 in the very near future, what greater gift can be given to a friend and loved one than to offer them a guide to finding rest and peace in a world that often brings pressure each day and is hectic at best.
Each chapter provides scripture, a reflection, reflection questions, challenge and prayer. Challenges take many forms, such as enjoying a picnic; focusing on your loved ones, either in person or holding them close in your heart; sending cards to five people you love and hope to see in Heaven one day; pausing for a few minutes to concentrate on breathing; committing to help the next person who needs your help; and spending the day by a river.
"Sabbath is so much more than following a command because you're supposed to," Burns says. "God really knew what he was doing when He gave it to us. God knew we would need it. Sabbath is a lifestyle and a state of mind. It not only leads us to rest, but it leads us to life."
About Paul Burns: Paul M. Burns serves as the pastor of First Presbyterian Church of Garland, Texas, and as a leadership coach for fellow pastors. He holds a Masters of Divinity degree from Austin Presbyterian Theological Seminary. "The Sabbath Challenge" is Burns' fourth book. He is also the author of "Prayer Encounters: Changing the World One Prayer at a Time;" "Wider, Longer, Higher, Deeper: Forty Days of Prayer, Scripture and Growth-filled Questions;" and with co-author James M. Burns Jr, "Blessing Encounters: Creating Family One Blessing at a Time." Before entering seminary, he worked as an investment consultant in New York City.