Longtime artistic director leaves GCT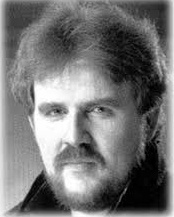 After bringing more than 50 stunning productions to the Granville Arts Center stage, Garland Civic Theatre's Artistic Director, Kyle McClaran's run with GCT has come to an end. With deep regret, the theatre's board of directors has terminated McClaran's employment because the theatre has reached a financial crossroads.
McClaran's love for the theatre has shone for almost 20 years through the quality of entertainment that he brought to the GCT productions. His dedication, desire for excellence and attention to detail are at the heart of his success. Whether a musical, drama, comedy or mystery, he wasn't satisfied with any show until he was certain that he had given his absolute best.
McClaran made every GCT show a standout success by paying attention to every aspect including the music, costumes and sets, which he almost always designed himself. He also had a knack for attracting exceptional actors and said in a past interview that it was because he directs the performances and not the show.
"I think Kyle is a true Renaissance man," said Patty Granville. "I don't know of anything he can't do. He is an amazing director, costumer, lighting and set designer. He can do it all, which he did frequently. He's a consummate theatre person and always a delight to work with."
Actor Marilyn B. Twyman has worked with McClaran for 12 years and has the utmost respect, admiration and appreciation for him.
"Kyle can be a strong task master when it comes to rehearsal, but it is only to make sure that the actor is at their best when it is time for curtains up," she said. "I have learned so much and have grown so much over the years as an actor and attribute a lot of it to Kyle. For the past 12 years, he has been my mentor, my director, my co-actor and most importantly, my friend. I will miss him greatly."
In addition to garnering the admiration of theatre-goers from all over the Metroplex during his time at GCT, McClaran, had 20 successful years as an actor and director at other theatres.
He has directed more than 200 productions in professional, community and educational theatre. He has also performed in the Shakespeare Festival of Dallas and with New York's National Shakespeare Company.
McClaran's list of acting roles includes the title role in Richard III at New York's National Shakespeare Company, a starring role in Dallas Repertory Theatre's southwestern premiere of Greater Tuna and numerous roles at the Dallas Theatre Center and Theatre Three. He also created one of Deep Ellum's first theatrical groups, Scavenger Productions, which was active in North Texas for more than seven years.
He has enjoyed public acclaim and earned numerous awards and accolades through the years.
Theatre critic Dan Hulbert called McClaran "a theatrical pathfinder, brilliant and inspired." He also wrote, "In his work as an actor, Kyle has been proclaimed as a performer of star quality."
Dallas Morning News theatre critic Tom Sime called him a "local theatre legend" and a "magnificent force of nature."
Steven Lynn, from Dallas Observer said that McClaran's work as a director was "sure, straightforward and uncompromised making him what we call in the industry – a true artist."
A few years back, McClaran said that he had stayed with GCT for so many years because he loves to create. That was proved every time his name appeared in a program.
Whatever the next chapter brings for McClaran, there is no doubt that it will be a grand success if his efforts up to now are any indication.