Marine, Garland native receives award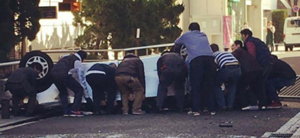 Garland native Pfc. Jacob G. Boerner, along with three other Marines and two Sailors were recently recognized by the mayor of city of Yukoska, Japan. These military members assisted in the recovery of a local Japanese family of five from an SUV after it fell from the fifth story of a parking garage and landed upside down, compressing the vehicle.  Tragically, three of the victims lost their lives that day. However, two boys, ages 11 and 16, in the vehicle survived.
The Marines were traveling toward a Yokosuka train station on their way to celebrate New Year's Eve in Tokyo when they heard a call for help. Without hesitation, they sprinted toward the scene, weaving between pedestrians on a crowded street. The Marines quickly noticed eight local residents and two U.S. Sailors working to rescue the family inside.
"We were running as fast as we could," said Lance Cpl. James H. Flores, from West, Texas. "We just started to go toward the crowd. At that point, we just headed straight over there and saw the accident, and immediately we did what we could to help."
Initially, the responders strained to open the doors to pull the family out, but struggled due to the vehicle's capsized position. Then Flores thought of flipping the vehicle upright, and the Yokosukan responders began synchronizing the group's efforts by establishing a cadence. Lance Cpl. Raheem F. Gilliam, who had recently learned to count in Japanese, started translating. The Marines and Sailors were then able to work together with
the locals to flip the car in synch. At that time, the boys were pulled out of the car and were hospitalized after sustaining serious injuries.
"Our thought was to just get people out as fast as possible. There was no pausing," said Lance Cpl. Manaure V. Arellano, from Pearsall, Texas.
The Marines took their experiences from the Marine Corps and applied it to the situation at hand.
"We're trained as Marines, especially being infantry, to have an immediate reaction," said Gilliam, from Moore, Oklahoma. "Every day the mission comes first, and the mission was to get them out."
After the survivors were pulled from the car, the Marines applied fundamental skills taught during the Combat Lifesaver Course: stop the bleeding, start the breathing, treat for shock.
The Marines have been awarded Navy and Marine Corps Achievement Medals at the Combined Arms Training Center, Camp Fuji, Japan.
The four Marines, three from Texas and one from Oklahoma, riflemen with 3rd Battalion, 1st Marine Regiment, are forward-deployed to 3rd Marine Division, III Marine Expeditionary Force, based in Okinawa, Japan. The Sailors are assigned to Commander Fleet Activities Yokosuka.
Photo By Petty Officer 2nd Class Richard Gourley | Pictured left to right: Navy Petty Officer 1st Class Garrett Osborne, Marine Corps Lance Cpls. James Flores and Manaure Arellano, Marine Corps Pfc. Jacob Boerner, Marine Corps Lance Cpl. Raheem Gilliam and Navy Petty Officer 2nd Class Derhon Finch.