Maximizing city connections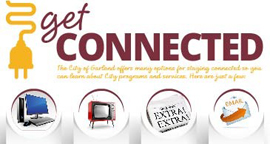 The city of Garland wants to increase its connections with the people who live, work, invest and play here. Those connections involve sharing information and ideas. Here are a few opportunities to maximize connections between the city and the people it serves:
Social Media – The city of Garland, as well as several City departments, are available through Facebook, Twitter, Instagram, YouTube and NextDoor. For a list of social media pages, click here. We post all kinds of news and updates to these channels and welcome feedback and questions! These channels are generally monitored during business hours, so use other means to report time-sensitive issues.
Garland eAssist – The city offers a mobile app and online platform for reporting nonemergency issues such as potholes, missed trash or recycling pickup, or graffiti. The mobile app allows you to take a picture of the problem and pinpoint its location on a map. You can even see other issues reported in your neighborhood!
Get the Latest City News – The city emails a weekly Enewsletter to keep you up-to-date on upcoming events and activities. Go to GarlandTX.gov and click on the Enews link to subscribe to the weekly Garland City Press Briefs, neighborhood, parks and arts news. Keep an eye on this spot… a regular update from the Garland Street Department is coming soon!
Make Your Entertainment Plans – Garland has lots of entertainment, dining and shopping options! Go to VisitGarlandTX.com and download the Visit GarlandTX app to access information about upcoming events, entertainment venues and more. The app will even help you plan and map your activities!
Become a Garland Ambassador – Help us tell great stories about Garland by joining the Garland Digital Ambassadors. When you sign up, you'll receive shareable content via email a few times each month. You will have the option to share ready-made social posts with one click, sharing good news from Garland with your connections!
Share Your #GarlandProud Stories – When you're sharing stories on social media about accomplishments in your neighborhood or other outstanding achievements, use the hashtag #GarlandProud. We will share your stories, too! In early February, the winners of the #GarlandProud T-shirt Design Contest will be announced, and we will begin giving free shirts to randomly chosen posters!
For more information about city services and programs, visit GarlandTX.gov or email Garland@GarlandTX.gov.
( Even more ways to Get Connected! )