Memorial Day: Honor those who made ultimate sacrifice
Memorial Day, originally called Decoration Day, is a federal holiday honoring United States military members who lost their lives while serving their country.  It started as a day of remembrance after the Civil War, and after World War I, it was extended to honor Americans who have died in all wars.
General John Logan officially proclaimed Memorial Day May 5, 1868, and New York was the first state to recognize the holiday.  It was recognized by all of northern states by 1890, but the southern states refused to acknowledge it until it was changed to honor service men and women who died in any war.  Before that, the southern states had a separate day to recognize their fallen Civil War soldiers.
The traditional date of Memorial Day, May 30, was changed in 1968 when Congress passed the Uniform Holidays Bill which moved it to the last Monday in May.  In the years since, several military organizations, including the Veterans of Foreign Wars, have spoken out against the change.  These groups believe that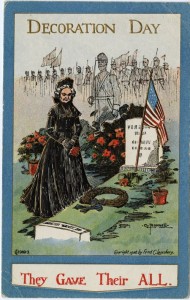 changing the date to create a three-day weekend undermines the meaning of the holiday and adds to the public's lack of interest in its meaning.
Americans traditionally observe the holiday by visiting cemeteries and memorials to place flowers and flags on the graves of soldiers, and by attending parades.  A concert is held on the lawn of the United States Capitol where attendees enjoy musical performances and respect is paid to military members who have died in war.
The Indianapolis 500 has been held on Memorial Day weekend since 1911, and the Coca-Cola 600 stock car race has been held the same weekend since 1961.
A resolution was passed in December 2000 asking Americans to 'voluntarily and informally observe in their own way a moment of remembrance and respect' at 3 p.m. local time on Memorial Day.  The reason for the resolution was to remind Americans of the true meaning of the day.
"We come, not to mourn dead soldiers, but to praise them."  Francis A. Walker
"The dead soldier's silence sings our national anthem."  Aaron Kilbourn