Motorcyclist dies after collision with wrong-way driver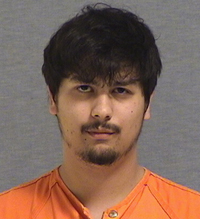 Garland officers responded to a vehicle crash last night around 11:30 p.m. in the 1700 block of South Garland Avenue.  When officers arrived, they found that a motorcycle had been struck by a car traveling on the wrong side of the roadway.
The motorcycle was traveling south on the southbound side of Garland Avenue when it was hit head-on by a Chevrolet Camaro traveling north on the wrong side of the road.
The rider of the motorcycle, 22-year-old Dale Anderson of Garland, was transported to Presbyterian Hospital of Dallas where he later died.
The driver of the Camaro, 23-year-old Matthew Tynes of Grand Prairie, was found to be intoxicated and was taken into custody.   He has been charged with Intoxication Manslaughter. Bond is set at $50,000.