Mr. Mc's Peanut Brittle made in Garland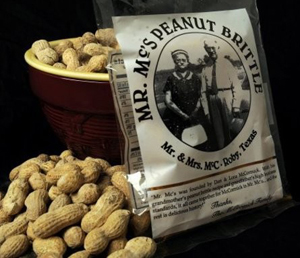 Don McCormick's grandmother, Winnell Browning, was given a delicious peanut brittle recipe by her in-laws. She later handed it down to her grandson who is now making the brittle available to the public. Don's adopted grandmother, who he called Granny, made the brittle which is light and does not stick to your teeth. Once you taste it, it will immediately become a favorite. The same is true of her peanut patties.
McCormick also recalled the delicious pies that his grandmother made, saying that they were a favorite of his along with the candies.
McCormick is grateful for being adopted by this particular family and appreciates important lessons that he learned from them. The support they provided was very important to McCormick.
"My new family was so good to me," he said. "And they always told me that I could achieve anything I wanted to do. My granny had the biggest impact on my life always supporting me day by day."
McCormick started making these candies to distribute to the public from a small kitchen in Garland, but even working full time, he had a hard time keeping up with the orders and now gets help from a close friend in Weatherford.
Anyone who has tried to make candy knows that it is an art that not everyone masters. McCormick's grandmother was one of those fortunate few who had the gift.
You can find the McCormick products at the Beef Jerky Store in Garland, Market Street and Central Market in Plano, South Rockwall Walgreen's, Rowlett Tom Thumb, Travel Center in Paris, Cullen's Market in Brownwood and Rudy's Barbecue locations in Allen, Ft. Worth, Denton and Arlington.
Mac's brittle, pralines and peanut patties have been shipped to NASCAR, the United States Congress, movie stars, sports heroes and more.
Email don@mrmcspeanut.com for more information.