'A Murder is Announced' at Granville Arts Center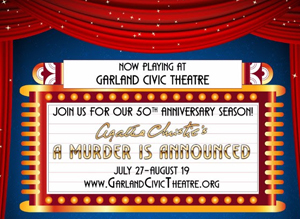 The opening production of Garland Civic Theatre's 50th anniversary season is a delightful production of Agatha Christi's "A Murder is Announced." The book was adapted for the stage by Leslie Darbon.
The story, with its many twists and turns, takes place in the 1930s in Chipping Cleghorn, a small village in England. The inhabitants of a Victorian home in the village see an announcement in the local newspaper giving the date and time that a murder is to occur in the Victorian home in which they live.
The murder victim is not one of the house's several occupants, but an unexpected and unknown visitor. What follows is a classic Christie puzzle of mixed motives, concealed identities, a second death, a determined inspector and Miss Marple, one of Christie's most popular characters, on hand to solve the murder.
Directed by Kyle McClaran, the show is fun and entertaining and never misses a beat. The set, designed by McClaran, is beautiful.
The talented cast features Peyton Hayslip in the role of Letty Blacklock, the lady of the house, Heather Smothers as Dora Bruner and Theresa K. Pegues as Miss Marple. Victoria Sawyer Wells is hilarious as the maid, Mitzi.
The remainder of the cast includes Calli Rose Young, Preston Wells, Melissa Hartman Couture, Laura Blenk, Hayden Sparks and Charles Ratcliff II.
Kendall Watson serves as stage manager and Bryanna Davis is assistant stage manager.
Performances are Thursday, Jul 27 through Saturday, Aug. 19, at the Granville Arts Center, 300 N. Fifth St. in downtown Garland.
Visit www.garlandcivictheatre.org  or call 972-485-8884 for additional information.
Tickets are available online at www.garlandartsboxoffice.com or by calling the Granville Arts Center box office at 972-205-2790.
Garland Civic Theatre's next production will be "And Miss Reardon Drinks a Little," which begins Sept. 7 and runs through Sept. 30.