New building dresses up downtown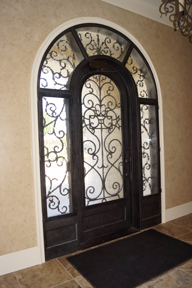 This time last year, the lot at 1102 Main St. was home to a few weeds and memories of the two-story white house of Mrs. Lily White. This year the location holds the law offices of Cynthia Spencer and Holt Irby, adding a stunning building a few blocks west of downtown.
Before the construction of her Main Street building, Cynthia's office was in the former Bank of America building and she was the last tenant to leave.
"We were still moving when the air and heat and water were already cut off," she remembered.
Holt Irby also moved his office to the new location and an almost 1,800 square-foot area still awaits leasing and customizing. Charlie Shearer was the architect and Foster Construction was the builder.
The new building is Mediterranean style, built of beige brick and combination tile roof. Inside the building a spacious foyer with a chandelier greets visitors. Three conference rooms, one with a vaulted ceiling, another chandelier, large table and six leather chairs make this room, with wall-mounted television, complete for conferencing by the attorneys. Offices, conference rooms and full kitchen are available from an outside door.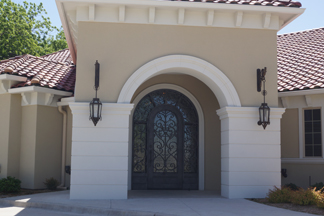 Hardwood floors complete the offices. In the vaulted room is a custom iron lighting piece similar to one Cynthia admired which held candles. A library of her late father's law books lines a wall in one office. More legal volumes cover a wall in a third conference room.
"We use digitized information now, but I still keep my father's large collection," she said.
Custom styling of wood furniture came from John Spencer's hobby. He is Cynthia's husband, now retired. They are parents of Ashley, who has provided their first grandchild, Grant, 2.
Janie Clark is receptionist a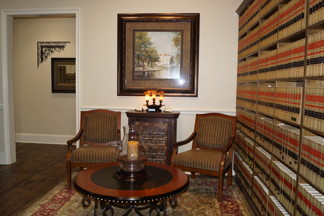 nd assistant to Cynthia. Pat Anderson is a longtime member of the staff and Darlene McMurriam, receptionist and Irby's assistant, are the other staff members.
Cynthia is a 1973 graduate of Garland High School. Her family moved to Garland when Kraft Foods came from Denison. Kenneth Vaughan, her father, was supervisor of the laboratory. The late Anita Hill and I were part of his crew. Later Anita was a state representative.
Vaughan began night law school at SMU in the early 1950s. After graduation, he opened a law office in Garland and was later named judge of Dallas County Criminal Court of Appeals Number One.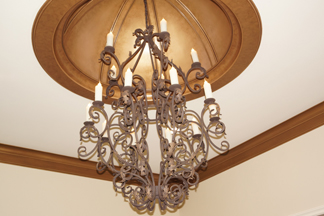 After graduating from Baylor University in 1978, Cynthia married John, another Baylor graduate and worked for about a year before deciding to follow her father's choice of SMU Law School.
Adding Ashley didn't stop her as she graduated and passed the Texas Bar. She joined W.R. Allen's law firm in Garland and later moved to her own firm.
Her contributions to the community make a long list. She was Garland municipal judge from 1986 until 1989, community development adviser for the Governor; chairman of the Chamber of Commerce legislative committee and she served on the boards of the YWCA and Garland First Baptist Church. She is now on the board of Visual Aid Volunteers where skilled workers Braille school books.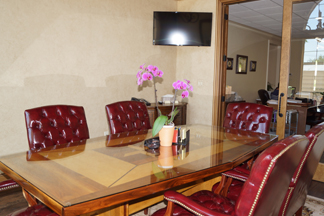 When vacation time finally rolls around, this involved citizen enjoys hiking in the mountains and some SCUBA diving.
"I tried golf," she laughed, indicating she left it to John.
Sue Shaw, now a resident of Brookdale at Club Hill in Garland, was Vaughan's secretary and recalls picking Cynthia up from school when her parents (her mother was a teacher) were busy. Sue Shaw also moved to Dallas to continue as his secretary into his judgeship.
Be sure to see this building. It is certainly worth a trip.
Old timers will remember another lawyer, Newt Morrison, who lived just across Avenue B from this addition to Garland.