District 1 has new council member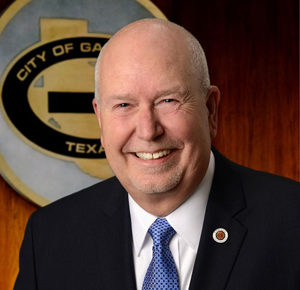 David Gibbons, recently sworn in as the District 1 Council Member, moved to the Dallas area in 1970. Born and raised in East Texas, he had often visited relatives in Garland and has fond memories of time spent here.
"I wouldn't even think about moving. This will always be home," he said. "It's a town of real people. I've lived in south Garland and north Garland and I love both areas."
He added that he has great neighbors in District 1 and said that the district is blessed. He is proud to live there and humbled to represent the district but understands that what is most important is what is best for the entire city.
"When we make a decision, if it doesn't work for everybody, then we have to rethink that decision," Gibbons said.
Because some areas are not as blessed as District 1, it's important to realize that without redevelopment there will still be an uneven balance. He believes that decisions must be based on "our city," not "my district."
"In District 1, the homes and infrastructure are newer but that doesn't make north Garland better," he said. "And we have some challenges, too, such as flood control issues."
Gibbons sees potential and opportunities in the city's seven identified catalyst areas and mentioned that significant progress has already been made at Highway 190 at Campbell Road as well as on Centerville Road and in the I-30 corridor area.
"I think that the city staff and council today can set the stage of how we take that next step of the redevelopment process to capitalize on the assets that we have," he said.
According to Gibbons, one of those assets is a rich 125-year history, but at the same time, that means that the infrastructure, roads, buildings and homes are older as well.
"We've got to be constantly rebuilding what needs to be rebuilt because that will attract a new group of folks to live in Garland," he said. "Our task is to make sure that we focus on new development and redevelopment at the same time so that no areas are left behind."
Gibbons added that it is an exciting time to be in Garland and pointed out the progress being made in downtown Garland. He said that there is great potential throughout the city.
"If we choose to ignore the challenges in the southern part of our city, we are cutting off our nose to spite our face," he said. "I think some people think we've already done that but I don't think so and I'm committed to whatever we can do to make sure that areas that need assistance get it. Council is comprised of nine pretty smart folks and we've got a great staff that's working all the time to improve the entire city."
Gibbons also believes that the city's cultural diversity is a great asset but said that more needs to be done to embrace that diversity.
"We tend not to assimilate with other cultures but stay within our own cultures," he said. "We have to make sure that we are involving everyone."
Gibbons is honored to serve on the council.
"I'm humbled by the enormity of the job and I'm committed to doing the very best I can for every citizen," Gibbons said. "My goal is to make the best decisions possible for Garland."