New leadership for Garland Chamber of Commerce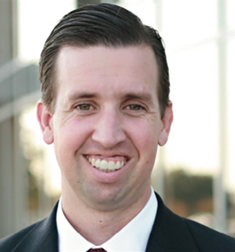 Scott McMurdie, CFP, QPFC and Partner at Shea & McMurdie Retirement, was recently appointed Chairman of the Board for the Garland Chamber of Commerce at its 86th banquet.
McMurdie's association with the Chamber began some 15 years ago when he joined father Greg McMurdie's financial planning practice, which meant joining his father in the Chamber. Six years ago the senior McMurdie, who sat on the Chamber's board, left their business to serve a two-year full-time mission for their Church with his wife in Santiago, Chile. He was asked by the board to step in and fill his father's term for its duration. At its completion he was invited to stay on.
Service is not new for McMurdie, but is basic to his character; whether to his God and faith, his family or the community.
As a young man he served a volunteer two-year mission for The Church of Jesus Christ of Latter-day Saints in Panama, where he learned to speak Spanish fluently. Today he presides as Bishop, the ecclesiastical leader, over a congregation of 500+ of that same Church in Sachse.
Giving to his community has always been forefront in McMurdie's mind. As a young man he was active in Boy Scouts of America. His Eagle Scout project was one that directly impacted a neighboring community. His family his first priority. He, and wife Carrie, have four lovely active children. Family time, time with each child and time alone with his wife are musts for McMurdie.
Looking forward into 2018, McMurdie shared a few goals he has for the Chamber.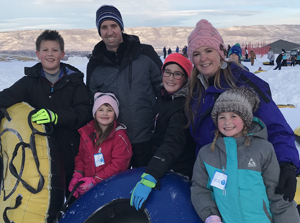 "This year we have some very specific things the Chamber is trying to accomplish. I'll be leading the Chamber through seeking the highest level of accreditation through the U.S. Chamber of Commerce," he said. I don't remember the exact statistic, but it's a very very small percentage, in the single digits, of Chambers that receive this accreditation. Though we were accredited about 10 years ago that had lapsed. We are now at the point where we've got the right processes, the right people, and everything in place to accomplish this reaccreditation. We have contracts to renegotiate this year. We will strive to encourage our younger workforce to engage in servant leadership."
"And our overall goal as the Chamber, as always, is to grow the economy of Garland, through partnerships and relationships. Also, this year, our small business grant program will give $50,000.00 to a few small businesses to help them with equipment, people, or programs they are trying to implement to grow their businesses."
Asked what he receives through his service in the community, he gave a more personal answer.
"It really is enjoyable and fulfilling to see how the Chamber is able to help small businesses grow, and be a part of that process myself," he said. "There are a lot of bright people I get to sit down with and figure out how to solve problems. You know, that's fun! The relationships I'm developing are just great. These are high caliber folks."
McMurdie is proud, and grateful, for how the organizations and departments within the city of Garland and it's community members work side by side to better the community for its businesses and residents,
"There aren't very many Chambers out there that have truly real, written, and established partnerships between the schools and school district, including the Trinity College district for that matter. That just doesn't exist in most of the Chambers. Garland is unique in that way."