Newly elected council members sworn in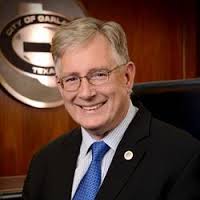 Two newly elected council members and the returning mayor were sworn in at the May 16 City Council meeting.
Mayor Douglas Athas was sworn in for his third and last term as Garland's mayor.
Scott LeMay, who ran unopposed in District 7, was also sworn in for his last term as a council member. He is currently serving as mayor pro tem.  LeMay thanked his family for the continued support they provide.
Outgoing District 6 Council Member Lori Dodson thanked her constituents and expressed her appreciation for their trust in her. Athas presented her with a plaque and city of Garland flag.
Robert Vera was sworn in as the District 6 council member and expressed gratitude for those who helped him get elected.
District 8 Council Member Jim Cahill, who termed out after serving for six years, said that serving on council had been a pleasure. He added that he has great respect for the other council members and city staff. He was presented a plaque and city of Garland flag by Athas.
Robert J. Smith, new District 8 council member was then sworn in. Smith thanked the residents of District 8 for their votes and said that he was looking forward to serving on council.
The election for District 3 council member resulted in a need for a runoff between candidates Ed Moore and Jerry A. Nickerson.
Voting information for the runoff election is as follows:
Early Voting for Runoff Election / Poll Hours:
May 30 – June 2 (Tuesday-Friday)                      8 a.m. to 5 p.m.
June 3 – (Saturday)                                           8 a.m. to 5 p.m.
June 4 – (Sunday)                                             1 p.m. to 6 p.m.
June 5 – June 6 (Monday and Tuesday)              7 a.m. to 7 p.m.
June 10 – Runoff Election Day