NFHS baseball player attends World Series game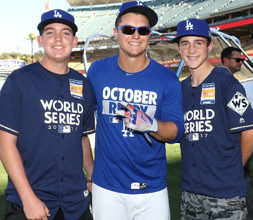 Naaman Forest High School senior Braden Yates could hardly believe it when he became the recipient of a trip to the first game of this year's World Series. The Make a Wish Foundation selected Braden, along with a teen from Florida, for the all-expenses paid trip. Tiffany, Braden's mom and Braxton, his brother, also got to make the trip to Los Angeles.
"I was excited when I found out that I was going," he said. "Baseball has been part of my life for a while and I've always wanted to meet the players, especially World Series players."
His wish came true as he got to meet several members of both the Astros and Dodgers teams.
He got to be on the field and not only meet several players but he also visited with the casts of the MLB network and Fox Sports. He met Alex Rodriguez, David Ortiz and he visited the suites where he met MLB commissioner Rob Manfred.
Braden confirmed, after meeting Astros' second baseman Jose Altuve, the he is as nice in person as he seems in televised interviews.
He received lots of gifts including a signed baseball, backpack, windbreaker and more. He, Tiffany and Braxton enjoyed a four-day stay in California.
"It was really great experience to get to meet all the people. My friends and my baseball coach [Carey Willingham, NFHS head baseball coach] were really jealous," Braden said.
Braden has played baseball since he was 3-years-old and is an outfielder on the Naaman Forest HS baseball team.
"I like the game because of the mindset and what you have to do to make it in baseball, the obstacles you have to get past," he said.
Braden is able to participate in sports despite having cystic fibrosis, but that isn't the case for everyone with the disease.
"Braden is kind of a different case," Tiffany said "He wasn't diagnosed until he was eight, but typically, kids are diagnosed as newborns."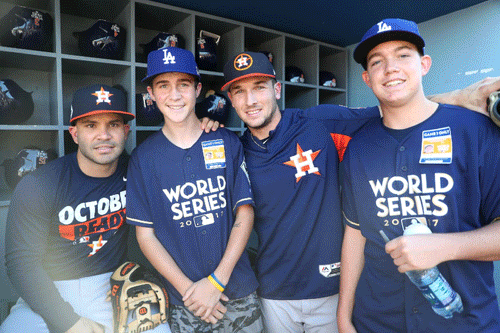 She added that because he wasn't diagnosed as an infant, he wasn't secluded in the hospital like most kids with the disease.
"I also never treated him like he had an illness and I wouldn't have even if he had been diagnosed earlier," she said. "I've never coddled him and always encourage him to get out there and go."
His parents and grandparents have taught him that he is no different from anyone else and that has impacted the way he lives. Even though he takes a variety of medicines and uses inhalers, he has no trouble functioning like any other teenager.
Braden said that until the last few years, most of his friends didn't know about his condition but he has really good friends who know now and support him. His advice to other young people would be to pick their friends carefully and stick with them.
In addition to going to school, keeping his grades up and playing baseball, Braden is a lab technician at a veterinary office. He began volunteering there at age 13 and was hired as a technician when he was 14. Since he has been working there, he has decided that he wants to study veterinary medicine after high school graduation.
Braden has to keep his grades up to stay on the baseball team, but he said that it's important to start thinking about things like good grades early.
"If you do not, you'll wish later that you had started to try harder sooner," he said. "You've got to think about your life early."