NFHS grad continues community service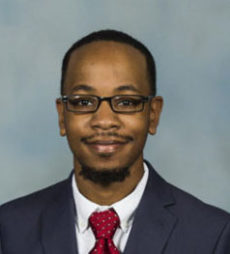 Jordan Johnson, 2011 Naaman Forest High School graduate, will be a Texas Tech University senior in the spring of 2018 and will have the honor of serving as vice president of the Collegiate 100.
The group, under the umbrella of the 100 Black Men of West Texas, focuses on the growth of individuals through four pillars–professionalism, leadership, community service and mentorship. The organization does volunteer work which includes mentoring at the Boys and Girls Clubs of Lubbock. Membership is not for black men only, but one goal is to challenge negative stereotypes of young African American men in today's world.
Jordan said that he never imagined that he would be taking on a role like this.
"I feel honored to be serving as the vice president of this organization," he said. "The feeling of knowing that I've come as far as I have is something that I can't put into words."
The importance of the work of this organization goes beyond the collegiate level. It highlights the challenges of racist stereotypes within the black community. When the type of work done by this organization is seen by at risk youth, it has an impact on the way they view their own future.
"Everything we do as college students has consequences," Johnson said. "Because of this, we must be mindful of our role in the community and that shows through our four pillars of Leadership, Community Service, Professionalism and our most important, Mentorship."
The first community service organization that Johnson joined was the Naaman Forest HS LIGHT Brigade program which helped teach him the importance of volunteering and community service.
"While growing up, I always had a passion for doing what I could for others but I didn't realize it at the time," Johnson said. "I always had a problem with saying no when someone needed my help. I never would've known that this was something I had a passion for until I joined LIGHT Brigade and that was only the beginning."
There was a time when Johnson didn't believe that he'd make it this far.
"There were a lot of things that I was going through," he said. "I wasn't making very rational decisions and I put my own future here at Tech in danger. I took time off from TTU and when I came back, I joined C100 and my new future started there."
He credits his parents, mother Ericka Darden, stepfather Michael Darden, father Mark Trunnell and Kim Trunnell, step-mother for his success.  Johnson stressed that the word "step" is a formality only in describing his parents. He also said that he would be lost without his siblings, Alex, Erin, Remi, Imatria, Brittany, Fahiym and Bailey.
He is also grateful to Ms. Vivian Johnson, who was in charge of the NFHS LIGHT Brigade program when he was in high school.
"Her constant wisdom and teachings have been instrumental in my continued success," Johnson said.
Ms. Johnson expressed pride in her former student's accomplishments and was thrilled that his involvement in LIGHT Brigade led to additional community service.
About LIGHT Brigade: The LIGHT Brigade is a peer support group/organization made up of students dedicated to remaining drug and alcohol-free and advocating a safer environment in our school community through an emphasis on education and prevention programs relating to societal issues like drugs and alcohol, suicide, mental health conditions, non-suicidal self-injury, safe driving, healthy relationships and bullying.