North Garland students impress at HOSA nationals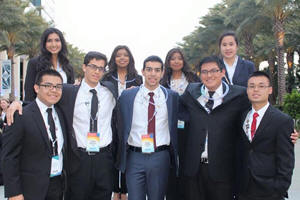 A group of North Garland High School students earned big honors at the Health Occupations Students of America (HOSA) National Leadership Conference June 24-27 in Anaheim, Calif. Going head-to-head with thousands of the nation's toughest contenders, the Raiders used their skills and talent to place within the top 10 in eight categories.
"We had spectacular results at nationals," said health science and technology teacher Nancy Stewart. "We were there along with 9,000 of the most academic competitors in the nation. It takes dedication and hard work to place in these competitive events. We are so proud of these students and thank the district for allowing us to compete."
Impressing in categories that covered everything from newsletters to biomedical laboratory sciences, the NGHS team proved that hard work and dedication reap rewards. But the group would not have been successful without their health science Career & Technical Education teachers. Learning real-world skills, such as medical terminology, body mechanics and taking vital signs, surely helped these students secure their victories. The future health professionals also propelled their chances by joining North's HOSA chapter, which allowed them to acquire experience in their forthcoming careers.
That critical experience can be credited with the following results from nationals:
Miguel Aguilar – ninth, epidemiology
Eyad Alrabbat – seventh, biomedical laboratory sciences
Jesus Bermejo – Best in Category, HOSA HAPPENINGS Newsletter
Karla Martinez – Best in Category, Outstanding HOSA Chapter
Perla Martinez – National Service Project of Merit Award to the Leukemia and Lymphoma Society
Tariq Muhanna – first, biomedical laboratory sciences
Vivian Nguyen – second, biomedical laboratory sciences
Maria Tijerina – fifth, physical therapy
Photo courtesy of Vivian Nguyen