Obituary: Barbara Williams Armstrong
27 February 1932 – 17 March 2017
Barbara Jane Williams was born on February 27, 1932, the only child of Curtis A. Williams of Fannin County, Texas and Bess Roberts of Limestone County, Texas. Barbara passed away at her home on Friday, the 17th of March, shortly after her 85th birthday. She had been in declining health for some time and died peacefully and suddenly of natural causes.
In 1932, Prohibition was in full force. A hamburger cost 5 cents, and drive-in movies, color television and the jet engine were yet to be invented. News headlines were dominated by Amelia Earhart's transcontinental solo flight and the kidnapping of the Lindbergh baby. While Barbara would enjoy the right to vote enacted for wo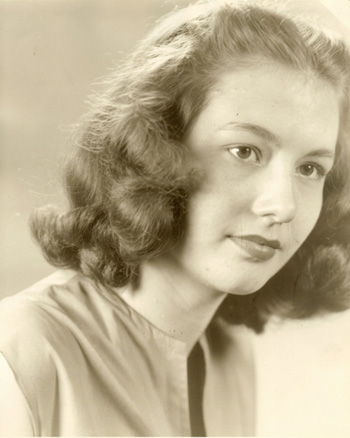 men just over a decade earlier, the same right would not be granted to African Americans for another 33 years. The country was sliding deeper into the grip of a Great Depression, leaving over 12 million U.S. workers jobless. Hitlerism was on the rise in Germany and the country would soon face the possibility of a second World War.
During the Great Depression years, Barbara was a young girl growing up on her grandparents' dairy farm in Limestone County. Despite widespread privation in those desperate times, Barbara would later reminisce about the farm as the most enchanted and happy years she'd ever known. She attended grammar school in Mexia, and later attended Waco High School. She met her husband, Harville B. Armstrong, Jr., of Waco, while attending Baylor University. Harville was the son of Harville B. Armstrong, Sr., of Dallas, and Mildred E. Gibson, of Meridian, Texas. Barbara and Harville were married in Waco on January 24, 1952 in a marriage that would endure 41 years until Harville's death in 1993. They raised their three children in Garland, and in Fannin County, where they farmed and raised cattle during the 1970s. Barbara's professional career spanned 30 years at E-Systems in Garland before retiring with Harville to Mineola in 1990, where they were active members of the Mineola Lion's Club and St. Dunstan's Episcopal Church.
A native Texan, Barbara was proud of an illustrious ancestry from some of its earliest settlers, from doctors and lawyers and fire-and-brimstone preachers to rough, frontier-hardened Indian fighters, all of whom immigrated to Texas from the Carolinas, Kentucky, Georgia, and Alabama. Among these were the Winn, Alston, Brown, Roberts, Clay, Campbell, Walker and Williams families, the progeny of many notable Revolutionary War heroes and distinguished frontiersmen and politicians who settled South and East Texas in the early to mid-1800s.
Perhaps she was merely ingrained with strong values, or perhaps like so many of her generation Barbara was a product of those who survived the Great Depression. She was among that breed who never wavered in confronting life's misfortunes, but weathered all challenges with polite grace, fortitude, and dignity. In life, she was generous and loving. In death, her memory to all who knew her is an enduring reminder of the very fine woman that she was.
Barbara is survived by children Karen Jane Armstrong, 62, of Mineola, TX, Harville B. "Bart" Armstrong III, 61, of Mineola, TX, and Suzanne Armstrong Howe, 56, of San Diego, CA, and grandchildren, Michael Jacob Witcher, 40, of Dallas, TX, Savanah Armstrong Howe, 22, and William Armstrong Howe, 21, of San Diego, CA.
At her request, her remains will be cremated and there will be no service.