Obituary: Charles Davis Cabaniss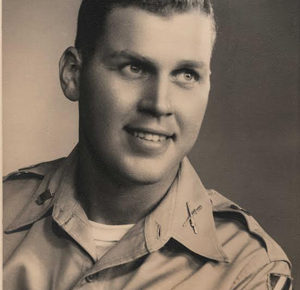 February 5, 1927 – June 23, 2016
Charles Davis Cabaniss, 89, passed away Thursday, June 23, 2016. Chuck, as he was known by friends, was born in Birmingham, Alabama, Feb. 5, 1927, to Walter and Inez Cabaniss.  He spent most of his childhood in Chattanooga, Tennessee, but moved to Garland, Texas, his freshman year of high school. Chuck graduated as valedictorian of Garland High School in 1945, where he was yearbook editor, a class officer and lettered in football and basketball.
Immediately after graduation, he entered the United States Army and attended Officer Training School in Fort Benning, Georgia. Following his discharge in 1946, Chuck attended Texas A&M University where he served as co-editor of the Aggieland yearbook and sports editor of The Battalion, the school newspaper, as well as in a variety of student government positions.
After graduating from A&M in 1950, he served a second tour in the military in the Korean War, during which he was awarded a Purple Heart and Bronze Star. Returning home in 1952, Chuck entered law school at the University of Texas, where he was a member of the Silver Spurs, class officer and scholastic award winner
Following graduation in 1955, he began his legal career in the Dallas district Attorney's office under Henry Wade. Moving to the U.S. Attorney's office for the Northern District of Texas in 1962, he served as an Assistant U.S. Attorney for over 35 years, receiving commendations from several federal courts and agencies. Early in his tenure, he held several leadership positions in the Federal Bar Association. During a one-year special assignment in the mid-1970s, he served as the initial Attorney-in-Charge and Institute Director for the Attorney General's Advocacy Institute in Washington, D.C. He had been the Chief of the Civil Division in the U.S. Attorney's office for over 13 years when he retired in 1998.
In 1960, he met Kathryn Landers Cabaniss of Dallas, and they were married July 29, 1961, at Wilshire Baptist Church, which he faithfully attended for more than 50 years. The couple's first child, Kevin, was born in 1963, and a second child, Kristin, was born in 1965. Outside of his professional life, Chuck was very active in service and community activities, including coaching youth sports, serving as Nation Chief for YMCA Indian Guides and Princesses and presiding over the Wildcat Club at Lake Highlands High School. His interests in research, journalism, and sports were combined in serving as Chairman of the Board and historian of the Garland Sports Hall of Fame from 1995 through 2011, culminating in a Lifetime Achievement Award from the Hall's Board of Governors.
In 2005, he was one of the inaugural four recipients of The Distinguished Alumni Award of the Garland High School Alumni Association.
Having worked part-time as a sportswriter for some local community papers periodically from high school into the early years of his legal career, during retirement, Chuck researched and co-authored a book on the first century of Garland High School football, which was published several years ago.
A devoted husband, father and grandfather, he supported and encouraged his wife, children and grandchildren in all of their endeavors, always making the time to be present for games, concerts, recitals, ceremonies and countless other events. Chuck was preceded in death by his parents, his wife Kathy, and seven of his eight siblings. He is survived by his children, Kevin and wife Carol, and Kristin, his three grandchildren, Peyton, Tanner and Trace Cabaniss, his sister Juanita Shields, brother-in-law, Dr. Ray Landers, sister-in-law Jo Ann Miller and a number of nieces and nephews. The Cabaniss family expresses their deep appreciation to Tonya Buford and Acapella In-Home Services for their compassionate care during Chuck's final years. Memorials may be submitted to the George A. Mason Pathways Endowment for Wilshire Baptist Church's Pastoral Residency program.
Visitation will be at Restland Funeral Home from 6 p.m. to 8 p.m. Tuesday, June 28. Dr. George Mason will officiate the memorial service at 2 p.m. Wednesday, June 29, 2016, at Wilshire Baptist Church, 4316 Abrams Road in Dallas.