Obituary: Denny Carl Phillips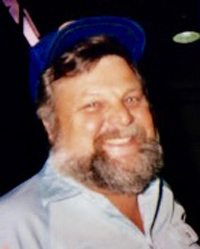 Jan. 4, 1950 – Jan. 30, 2017
Denny Carl Phillips, age 67 of Rowlett, Texas, passed away January 30, 2017. He was born January 4, 1950, in Chula Vista, Calif., to Dale and Billie Phillips. Denny received an honorable discharge while specializing in Avionics for the USAF.  He retired from the City of Garland, TX, after 22 years of service and, at the time of his passing, was employed as a Senior Fire Protection Mechanic for the Dallas Fire-Rescue Department.
Denny is remembered for his markedly large personality:  a quipster, whose barreling laughter brought joy to many he loved.  He was an intelligent, industrious and generous man. Denny had a childlike enthusiasm, a love for animals and made an impression upon many.  He was curious and had a special gift for "fixing" things.
Denny is survived by his loving wife of 22 years: Terri Phillips; children: Rick Phillips and wife Laurie, Ross Phillips, Katie Phillips, Trevor Newman and Ryan Rolison and wife Rae; grandchildren: Justin, Austin, Taylor, Dallas, Ross, Natalie, Evan and Vivienne; great grandchildren: Zoey and Korbyn; and siblings: Connie Taylor and Rickey Phillips; and numerous cousins, nieces and nephews.  Denny was preceded in death by his parents: Dale and Billie Phillips; and first wife: Caroldean Phillips.
Memorial services will be held 7:00pm, Thursday, February 9, 2017, at Rest Haven Funeral Home-Rockwall Chapel with DF-RD Chaplain Elaine Maddox officiating. Memorials in Denny's honor may be made to the Disabled American Veterans organization at www.dav.org, the American Cancer Society at www.cancer.org, or the Wounded Warrior Project at www.woundedwarriorproject.org.