Obituary: Jesus Valle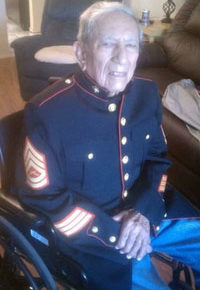 Jesus C. Valle Sr., 94, a loving husband, son, father, grandfather and brother, went to join the Lord Sunday, May 28, 2017. Jesus was born in El Paso, Texas to Manuel and Maria July 9, 1922. The family moved to Garland in 1929. He served in the United States Army from 1942-1945 during World War II. He was honorably discharged and later joined the United States Marine Corp reserves with VMF-112 F4U Corsairs in 1948 and later was activated to active duty 1950 – 1951 to support efforts in Korea. He served on several Navy ships during his time in the USMC – The USS Valley Forge, USS Essex and the USS Oriskany all vessels were aircraft carriers. He was honorably discharged in 1961 from the Corp and then joined the United States Air Force. In 1967 he was sent to Thailand to support efforts in Viet Nam. Upon his return to the United States he settled at his last duty station at Randolph AFB. He retired in 1974 and was honorably discharged.
One of his passions was to help fellow veterans after his time in service. He returned to his home in Garland and served three terms as the post commander of VFW 3359, worked with the DAV-Disabled American Veterans, was a DAV Commander two times with chapter 137 since he was also a disabled veteran and assisted many vets with information to register for VA benefits. He would ride share with brothers to the Dallas VA on the DART train as needed. He loved his family and was a center piece of the family with his stories of the past during the reunions and family gatherings.
Jesus was preceded in death by his wife of 45 years, Elvira. He is survived by his first son and family: Jesus Jr, Laura, Adenna, Breanna, Joshua, Hailee, Joshua Jr., Audrey, Jesse, and Alexis; second son and family: Richard, Denise, Lacey, James, Jacob and Adrianna; third son and family: Tony, Rosa, Anna and Caleb; sister, Eugenia Greenleaf; brother, Pascual Valle.
Visitation will be 6 p.m. – 8 p.m. Wednesday, May 31 at Williams Funeral Directors. Funeral service will be 3:30 p.m. Thursday, June 1, at Williams Memorial Chapel. Graveside service and interment will be 9 a.m. Friday, June 2, at DFW National Cemetery in Dallas.