Community Planning Month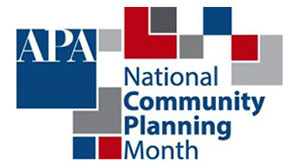 The achievements of planning are celebrated during National Community Planning Month and Garland will kick off the celebration with an official proclamation at the City Council's Regular Meeting Oct. 2. This year's theme, Innovation in Planning, highlights the important role planning plays in addressing and adapting to challenges faced by communities in the 21st century. Innovation includes everything from using data sources and technology to address issues—such as inequality, access to transportation and social mobility—to celebrating new approaches to creating communities of lasting value.
The Planning & Community Development Department will commemorate the month with events highlighting the role planning has played in our city. During October, the Planning Department will host an open house at the Main Street Municipal Building at 800 Main Street. The department has also produced a list of Great Places in Garland, similar to Great Places in America produced by the National American Planning Association.
Be on the lookout for posters around town, event information on the city's website and Planning & Community Development's new video on the Planning & Community Development page!