Officials provide tornado impact update; announce names of fatalities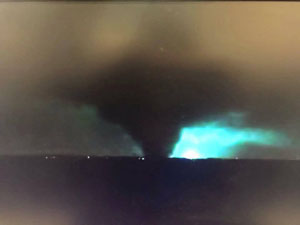 City of Garland officials are continuing their efforts to assess and assist in the tornado impact area. At this time, the count of homes damaged by the tornado is 783. Of the damaged homes, officials have declared 547 of them to be safe while 236 of the homes were declared uninhabitable and hazardous.
Garland's Police Chief Mitch Bates said in a Dec. 28 press conference that 50-60 calls had been received from individuals who had been unable to contact friends or relatives from the area. There are 18 people that were at that time, unaccounted for.
"We are trying to determine whether they are missing or if they have found shelter," Bates said.
He provided a phone number for those who wish to check on relatives – 205-926-3558
The Landmark Village West Apartments located at 1044 East Interstate 30 continue to be unsafe and no one is being allowed in the area.
This morning, there were approximately 1000 homes without power. Electricity was expected to be restored to more homes by the end of the day today.
Insurance companies have set up shelters in the parking lot at Rowlett High School for the convenience of the victims.
The Insurance Council of Texas announced that the preliminary damage estimate in the counties of Collin, Dallas, Rockwall and Ellis is $1.2 billion with the largest percent of the damage in Garland and Rowlett.
Police continue to patrol all of the damaged areas and there have been no reports of vandalism or looting.
Fire and police departments from several cities around the area, as well as employees from electric utility companies from outside areas are assisting Garland departments.
Additionally, the Garland Police Department has announced the names of the eight people who lost their lives in the tornado that occurred Saturday, Dec. 26. All of the victims were vehicles near the Interstate 30 and President George Bush Turnpike interchange when the tornado touched down.
• Timothy Harris, 58, of Greenville
• Sharva Monique Sanders, 42, of Fort Worth
• Kimberly Lashorn Tippett, 30, of Garland
• Kamryn Demetrius Crain, 1, of Garland
• Lashondra Mildred Whitaker, 32
• Cecil Warren Lowrie, 77, of Garland
• Petra Ruiz, 27, of Dallas
• Jose Oviedo Juarez, 19