Paw Paw's Sweet Shop owner shares experience
Cheri Stigler, owner of Paw Paw's Sweet Shop in downtown Garland, has more than 30 years' experience in the food service industry and is using that experience to do more than bring delicious meals and mouthwatering desserts. Her background includes working at various fast-food establishments and advancing to the management level at the age of 19. She opened her own restaurant at 24 and later became a Pampered Chef consultant where she has done more than 1,000 live cooking events. She opened Paw Paw's, named in honor of her father, in 2009.
Stigler is now using her valuable experience to teach the next generation of restaurant owners and managers. Paw Paw's Sweet Shop is often the first job of many of her employees and she is making the most of her time with them.
"I want them to learn usable information," she said. "I teach them responsibility and the importance of doing things the right way, things that will be useful in life."
The ones that show an interest in continuing in the restaurant business, have an opportunity to learn valuable lessons about running food establishments. She works with them on how to figure out the cost of making quality menu items and how to price them; to keep an eye on inventory so they know when they are running out of products and to carefully watch the amount of waste is created.
"I'm honest about the financial situation and teach them to keep an eye out for waste because of the money factor," Stigler said. "I try to share with them an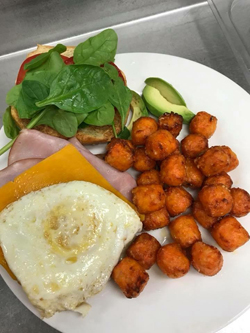 owner mentality for their own advancement. I make them think beyond just what they have to do to get a paycheck."
Knowing the importance of customer service, she also stresses attention to detail when interacting with customers.
Anyone who dines at Paw Paw's can expect high quality food that is made with fresh ingredients. Stigler does not used premade ingredients such as bagged salad or preshredded cheese. She also shops for the best price on ingredients so that she can offer lower menu prices.
"As a result, the customer leaves here having received everything they want – good customer service, a quality product and a great overall dining experience," Stigler said.
Kirstyn Blankenship, who began working at Paw Paw's as a server and was recently promoted to manager, hopes to owner her own bakery someday and is learning much of what she will need to know by working with Stigler.
"I'll be excited for her to get to open her own place someday, but I'll hate to lose her."
Stigler's son Sean has been working at the restaurant for several years and was promoted to general manager when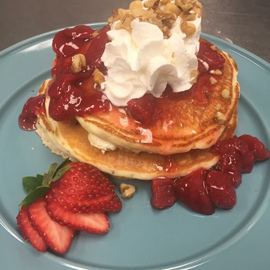 Blankenship became manager.
Stigler enjoys being a counselor and coach to the employees and her dedication to them does not stop there. A few years ago, she established the J.D. Graham, Jr. Memorial Scholarship in her father's memory and has helped several young adults go to college. The first three were Cisco ISD students, which was her father's alma mater. Then Stigler made the decision to award the scholarship to her own employees, which she has now done for five years and all those were from area high schools.
"The recipient must be working while attending school, have exemplary character and exhibit good work ethic," Stigler said.
Paw Paw's is located at 823 Main Street in downtown Garland. The restaurant is open Monday – Friday 8:30 a.m. – 6 p.m. and Saturday 8:30 – 5 p.m. Breakfast is served Monday – Saturday from 8:30 – 11 a.m. They cater, provide box lunches, party trays and full meal setups. They also deliver to offices with large orders.