PeiWei launches campaign to combat hunger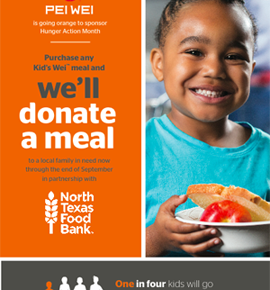 September is national Hunger Action Month and Pei Wei Asian Diner is proud to partner with the North Texas Food Bank in a "Buy One, Feed One" campaign to honor the cause.
Now through September 30, Pei Wei will fund one meal for a local family in need with every Kid's Wei™ meal purchased at any of the 26 Dallas-Fort Worth locations.
"One in four kids go to bed hungry every night and we want to help change this statistic," said Clay Dover, Chief Marketing Officer of Pei Wei Asian Diner. "By partnering with the North Texas Food Bank, we are able to generate awareness for this important cause."
Guests are invited to visit a Pei Wei Asian Diner, include a Kid's Wei™ meal with their orders and know they are supporting a local cause.
"Hunger Action Month is all about raising awareness in your local community," said North Texas Food Bank Marketing Coordinator Melissa Retzsch. "We are excited to partner with Pei Wei Asian Diner here in Dallas-Fort Worth to take action on the issue of hunger."
About Pei Wei: Pei Wei offers a menu of fresh, high-quality Asian cuisine featuring 35 bright, flavorful hand-cut ingredients. The restaurant provides a lively, casual dine-in experience as well as the flexibility, speed and convenience of take-away service to provide guests tasty options for a quick, light lunch or relaxing dinner. Pei Wei serves freshly prepared, wok'd-to-order dishes with Asian inspiration in a comfortable, modern diner environment. Pei Wei owns and operates 195 restaurants in 25 states and licenses the Pei Wei brand for use by partner restaurant operators in airport and international locations. For more information, visit www.peiwei.com.
About The North Texas Food Bank: The North Texas Food Bank (NTFB) is a top-ranked nonprofit relief organization, and the largest North Texas charity. Each day, the North Texas Food Bank provides access to 170,000 meals for hungry children, seniors and families through a network of more than 1,000 programs and more than 200 Partner Agencies. In fiscal year 2014, NTFB provided access to some 62 million meals. NTFB is a member of Feeding America, a national hunger relief organization. Filling Tables…Improving Lives. ntfb.org.