Officers investigate shooting, one dead, two injured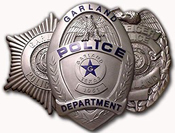 Update: Police identify male victim
The adult male victim was identified as 21-year-old Axel Sanchez Orozco of Garland.
Monday, Jan. 15, at approximately 3:30 a.m., Garland police officers responded to a gunshot wound call in the 1600 block of Mosswood Court.
While police officers were responding to the scene they received information that a red passenger car was involved in the shooting. A patrol unit observed a red passenger car driving without their headlights traveling at a high rate of speed eastbound on West Walnut.
The vehicle was stopped and was found to have four occupants. One of the occupants, a 13-year old male, was found to be suffering from a gunshot wound. The 13-year-old was treated at Baylor, Scott & White of Garland and transported to Children's Hospital where he is believed to be in stable condition.
Police officers arrived on Mosswood Court and observed two victims at the location, a 15-year-old male and a 22-year-old male, suffering from gunshot wounds. Both were transported to a hospital in Plano where the 22-year-old was pronounced dead. The 15- year-old is believed to be in stable condition.
The investigation is ongoing at this time.