Pro races in Garland prove decisive in standings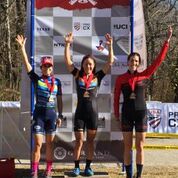 by Peloton Sports, special for The Garland Texan
When the dust had settled in at W. Cecil Winters Park in Garland on an unusually hot, dry Sunday in mid-December, two Californians had dominated the final races of the USA Cycling Professional Cyclocross Calendar (ProCX). It was the fourth consecutive year that internationally-sanctioned bicycle races were held at the Resolution Cross Cup, making it one of the decisive season-ending events for professional cyclists across North America.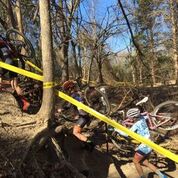 Elite Women's and Elite Men's races were held at W. Cecil Winters Park Nov. 9 and 10. Crystal Anthony of Newbury Park, California, riding for Maxxis Shimano Pro Cyclocross, would score a second-place finish Saturday and a win Sunday. She earned enough national points to move her into second overall in the ProCX standings. Santa Cruz, California native Tobin Ortenblad, riding for Santa Cruz/Donkey Label, would go two-for-two on the weekend and secure his hold on the ProCX overall standings for Elite Men.
USA Cycling's ProCX features the premier cyclocross events in America and uses an overall ranking system to determine the best individual male and female 'cross racers over the course of the season. There were 40 race days across 18 states and the District of Columbia. The 2017 ProCX schedule concluded with the Resolution Cross Cup in Garland Dec. 10. It is the fourth consecutive season that Resolution Cross Cup has been part of ProCX, and it is the only internationally-sanctioned cyclocross race in Texas this year.
"It was exciting to see so many highly-ranked national racers this year at Resolution Cross Cup. The pros were complimentary of the course and felt very welcome in the community. We are proud to showcase grassroots racing at its best with a national flair," said race director Jeff Lucido of Texas Cross Syndicate. "We couldn't have done it without support from our sponsors and the Garland Parks & Recreation, including parks superindendent Barry Swisher. We are extremely fortunate to have a world-caliber venue like Winters Par
k."
In addition to support from Garland Parks & Recreation, Lucido noted that several bicycle shops have been integral partners for growing the event, which is also part of the TXBRA Texas Grans Prix of Cyclocross Race Series and the North Texas Cyclocross Race Series. Four bicycle shops that support Resolution Cross Cup are Richardson Bike Mart, Bicycles Plus, Dallas Bike Works and Plano Cycling & FItness.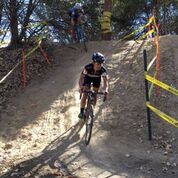 Three Texas-based pro cyclists performed well at the Resolution Cross Cup. Samantha Runnels of Austin finished sixth both days and Christina Gokey-Smith of Denton had two Top 10s (eighth on Sat. and ninth on Sun.). For the Elite Men, Tristan Uhl of Austin earned an eighth-place finish on Sat. and was ninth on Sun.
"It was great. Both of these races have great vibes, great courses," Anthony said, who finished second to Courtenay McFadden of Bellingham, Wash. on Saturday. "After a very close battle with Courtenay yesterday, which came down to a sprint, I anticipated another challenging duel today. The course had aspects that suited both of us, so I tried to use the power sections to my advantage."
Anthony remembered racing a muddy event at the 2015 Resolution Cross Cup when the race was in January. She won that 2015 race. On Sunday returned to the top step of the podium wiht a back-and-forth battle again with McFadden.
"I attacked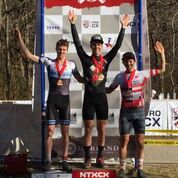 every hill and would get a small gap, but Courtenay managed to reel me back in until my attack up the hill to the sand pit on the final lap. I know we both left it all out there, and I am psyched to head into nationals with a win," explained Anthony about her second win of the season and the 13th time to finish in the Top Five. The USA Cycling Cyclocross National Championships will be held in Reno, Nev. in January 2018.
The ProCX crown for Elite Men was sealed with the two wins in Texas by Ortenblad. He has won 1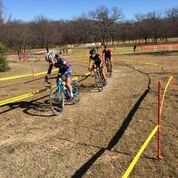 1 races this season across the U.S. "I feel really good coming out of the weekend," Ortenblad said about his double wins. "That's a couple of consecutive UCI races, which is a good build for Nationals (in January)."
With two laps to go in Sunday's contest, Ortenblad was looking to shake three riders, Canadian Michael van den Ham, Jack Kisseberth of Westhampton, Mass., and Cody Kaiser of El Dorado Hills, Calif. Kaiser would fade and finish fourth. A three-way battle for podium spots ensued, with Ortenblad taking the sprint over Kisseberth, and van den Ham finishing third.
"Today towards the end it was still three of us going right into the finish," Ortenblad said. "I was behind Michael (van den Ham) and he ran a little wider in the slippery corners before the end and I was able to get under him. Then Jack (Kisseberth) a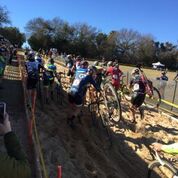 ctually passed him too. So he and I held off Michael for first and second."
For New Englander Kisseberth, it was his first time in Texas. "It's been a blast. The course, especially, is something I loved because it had those technical woods sections, and it's got some fun sand. It's challenging, a good balance course. And everyone's happy to be out here, it's beautiful weather."
The final ProCX standings for Elite Women and Elite Men will be confirmed by USA Cycling by Dec. 13 and will be posted at www.usacycling.org/procx/.