PTAA open to Garland, Mesquite students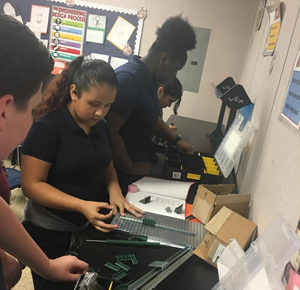 What do Leonardo Da Vinci, Ada Lovelace, and Steve Jobs have in common? They each loved the arts and humanities and appreciated the beauty of math and physics. This allowed them to innovate, to create, to change the way human beings experience the world. The mission of Pioneer Technology Arts Academy is to empower and engage students to reach their full potential as global leaders who will enhance their communities and the world through creativity, collaboration and innovation. Pioneer Technology & Arts Academy is a brand new charter school that just recently opened its second campus in Mesquite.
PTAA believes that students need to be competing at a global level and must be challenged, mentored, and prepared. The new school offers classes above and beyond the core subjects in engineering and robotics, Chinese, Spanish, art and music.PTAA's vision is to create academically superior graduates who are ready to meet the challenge of global competition. In this constant flattening world, our Texas students need proper tools, ideas and knowledge to stay above national and international graduating standards.
PTAA's mission is to create a model that provides the tools, ideas and knowledge through a creative blend of student-initiated and teacher-facilitated approaches in which students' creativity, physical/mental health and self-confidence are fostered at every step.
PTAA currently has an agreement with UT Arlington to provide dual credit courses to future PTAA high schoolers so they may graduate with an associate degree. In addition to dual credit, PTAA also has partnerships with Brazil, India, and China (BRICS Nations) schools to expose, challenge and mentor our students with their foreign peers in the fastest growing economies. Students in the foreign exchange program will be able to take 6-12 month courses in one of our sister schools in China, Brazil and India.
PTAA believes the mental and physical health of a student is extremely important to create an ideal classroom atmosphere. The board members have been working on teaching the nutrition message in classrooms since 1990. PTAA strongly believes healthier kids are more focused and more attentive in the classroom, perform better on tests and assessments, are absent less and exhibit more self-confidence.  All classrooms incorporate healthy living throughout their coursework.
This program is especially important for students of busy families where healthy living sometimes is overlooked because of budget, parents' long work day and lack of nutritional awareness. In addition to classroom awareness programs, PTAA will strive to keep its school sugar-free and will take steps necessary to limit processed food and beverages when possible, while complying with state and federal nutrition requirements.
The school is currently enrolling sixth- and seventh-graders located in Mesquite, Garland and Dallas ISDs for the 2016-17 school year and will enroll sixth – ninth grades in the upcoming 2017-18 school year. PTAA's second middle school campus is located at 3100 Oates Drive in Mesquite. For more information, see www.ptaaschool.org or call 972-375-9672.