NFHS volleyball player nominated for award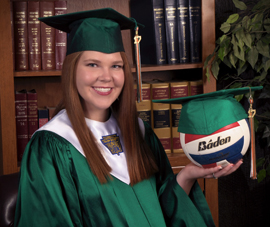 Nominees for the Gale Fields Outstanding Senior Athlete award were recognized at the recent Garland Sports Hall of Fame induction ceremony.
Volleyball standout Rachel Guerry, one of this year's nominees for the Gale Fields Outstanding Senior Athlete award, has been playing volleyball since early elementary school. She first played in a Garland recreation league then went on to play club volleyball for six years. In high school, she enjoyed success on the Naaman Forest volleyball team.
"I feel honored and blessed to be considered for this award," Guerry said.
Volleyball is a sport that she always enjoyed, probably because it's the game that her family always played when they gathered for holidays.
"As a young girl, I thought it was so cool and I couldn't wait until I was old enough to play with my family," Guerry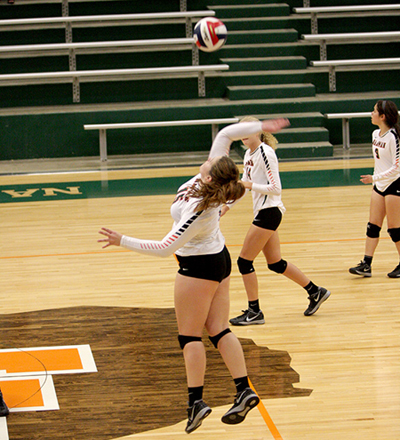 said. "That's when I first started to really pay attention to volleyball. As I was playing in the Garland Volleyball Association, I noticed that I was really picking up the skills our coach was teaching and never thought twice about coming back every year."
She said that looking back at the 7-year-old girl who just wanted to play with her friends in a recreation league and see the growth as a person, player and teammate leaves her speechless.
"All of the late-night practices and early morning tournaments now seem like a small price to pay for being recognized in such a way. I never thought that I would have such an impact in Garland ISD by playing a sport I fell in love with as a young girl," Guerry said.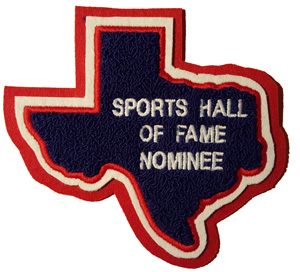 She will be attending the University of Oklahoma to study physical therapy in the fall but because of a back injury, she won't be playing on the college volleyball team. She will however, play in intramural leagues to stay in shape and be close to volleyball.
About the Gale Fields award: According to the association's website, the Gale Fields Award is given to honor an outstanding male and female senior high school athlete from the Garland Independent School District. One male and one female athlete are chosen from each Garland ISD high school. Selection of the nominees is based on athletic accomplishments, academic standing, community service and citizenship qualities. The association's belief is that our youth are not only future achievers in sports, but also future leaders of the community. The award includes a $1000.00 scholarship or a donation of $500.00 to their respective schools.