Reading Grandpa Will's words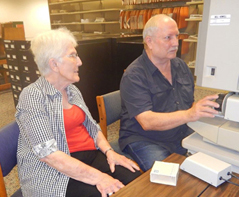 Cousins Roger Poore and Sue Holmes Watkins recently spent an afternoon gazing on their grandfather's words, penned more than 100 years ago. Will A. Holford, editor and proprietor of the Garland News in the early part of the last century, was looked to by Garlandites particularly for his newsy "Local and Personal" column. It reported everything from dog-stealing to church potlucks.
Sue and Roger were editor Holford's grandchildren. Roger, whose mother was Lorena Holford Poore, never knew this community anchor of bygone days. Sue, daughter of Willie Kate Holford Holmes, remembers her grandfather for the first 10 years of her life, before he died. Their two mothers were sisters and daughters of Will and his wife, Laura Scott Holford.
It was Sue's and Roger's first trip to the basement of Garland's Central Library, where newspaper archives are preserved on microfilm, to sit down and read Holford's legendary columns.
They sat by a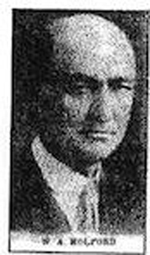 microfilm reader and mused as they viewed Holford's reports, such as this one in his May 1, 1914, column: "Bud Anderson says the excessive rains have caused the chains with which he fastens his gate to draw up six inches."
Or another from Holford, an ardent Garland cheerleader: "The town was crowded Saturday with people from ten miles around. When they want to go to a real town they always land in Garland."
The Holford sisters, Willie Kate and Lorena, and their husbands, along with Sue and her brother, Bill Holmes, all were residents of Garland's 309 South 11th Street during the 1930s and early 1940s (before Roger Poore's birth).
In another of Will's columns, he wrote about his daughter and Sue's mother. He reported that "Miss Willie Kate Holford" and her uncle, C.L. Joyce, had recently visited relatives in Fort Worth (June 3, 1914).
With interest Roger discovered a July 2, 1915, obituary of his paternal great-great-grandfather, Harmon Newman (considered by many to be the founding father of the Pleasant Valley community, near Garland). It bore the headline, "Pioneer Gone to Reward."
Holford's columns were jam-packed with tidbits, a particular wonderment in the age before instant messaging, Facebook, and even telephones in many homes—How did he procure all of his news? Travels by locals, sickness, births, new automobiles, house move-ins, expired newspaper subscriptions, church socials—the editor wrote about it all. Some tidbits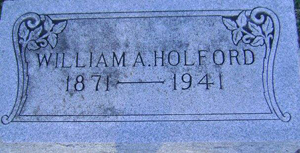 were pithy; some went on for many lines. Holford's droll humor was a common thread in his writings.
Sue was for years the much-beloved writer and columnist for the Garland Daily News and later the Dallas Morning News neighborsgo feature on Garland.
Holford (1871-1941) purchased the News in 1904, serving as owner/editor until 1914 and again from 1918 until 1931. His editorial comments at one point urged citizens to support the planned Interurban that was to have linked Greenville to Dallas through Garland, running down Avenue D (then Mewshaw). The Interurban through Garland didn't come to pass, but the Travis College Hill Addition that sprang up around 11th Street and adjacent to the planned line is 104-plus years old and going strong.