Register now for Leadership Garland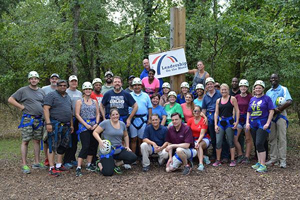 The purpose of Leadership Garland is to provide corporate leadership training; to motivate and encourage civic leaders; and to develop personal leadership characteristics and skills within individuals. Participants are introduced to state, county, city officials, school board trustees, administrators, community leaders, community boards and commissions. Leadership skill topics are taught with active participation along with numerous field trips. Each graduate is encouraged to actively contribute to Garland's growth and future. Learn More
TO APPLY
Become a member of Class 37
If you would like to participate in Class 37, please complete the application linked below. A maximum of 32 applicants will be admitted into Class 37. The deadline to submit applications is June 30. Download the Application.
DETAILS OF PARTICIPATION
Requirements for applicants
Applicants must have either lived or worked in Garland for a minimum of one year prior to Sept. 1, 2017 or be a member in good standing of the Garland Chamber of Commerce in order to be eligible. Upon selection for the class, the tuition fee of $750 is due by Thursday, Aug. 24. A copy of the class schedule must be signed and included with application submissions. See the Class Schedule
SERVE AS AN ADVISOR
Only Leadership Garland alumni may apply
If you have already been through the program in the past, consider supporting Garland's leadership growth by serving as a class advisor. The deadline for applications is Wednesday, May 31, with applicants being interviewed by the Leadership Garland Steering Committee at their meeting on Wednesday, June 7, 8:30 a.m. at the Chamber of Commerce office. The interview is required for consideration to fill the class advisor position. Download the Advisor Application
If you have questions, please contact Diane Whitlock at the Garland Chamber of Commerce – 972-272-7551. The Chamber of Commerce office is at 520 N. Glenbrook in Garland.