Residents evacuated due to gas leak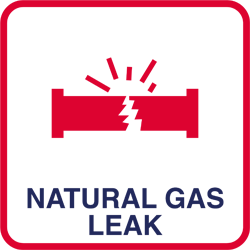 Jan. 18, in the early afternoon, a gas leak caused the evacuation of 29 homes in the Larry Drive/Parkmont Drive area. The Garland Fire Department was called about the leak and upon their arrival discovered that a construction crew had cut a 4 inch Atmos Energy line.
Atmos quickly turned off service, but escaping gas had already traveled along the sewer line and entered several homes in the neighborhood.
Atmos Energy and the Garland Fire Department checked each house for the presence of natural gas and 29 homes were evacuated.
Approximately 123 homes were without service until 10 p.m. when the damaged line was repaired. The Gail Fields Recreation Center opened its doors to the residents while they were displaced.
Natural gas safety
Do not ignore it if you smell gas! Call your supplier company or 911 for help.
If you smell a leak near an appliance, it could be that the pilot light has gone out or a burner valve is open slightly. If you can find and fix the problem, it may be solved.
If you smell gas inside, contact your supplier immediately. If the smell is strong, or if you are unsure of your safety, leave your home then call the company. While you are waiting for them to arrive, take these steps:

Keep everyone away from the area where the odor is.
Do not smoke or light matches.
Do not light candles.
Do not flip electrical switches.
Do not use telephone.
Don't use doorbell.
Don't adjust thermostats or any other appliance controls.
Put out all open flames.
If you smell gas outdoors, report it immediately. Do not attempt to locate source on your own. Do not position or operate vehicle near source.
If you hear gas escaping, follow these steps:

Call local gas company immediately from a neighbor's phone.
Do not go back inside home until gas company tells you it is safe.
Keep others away from area.
Source: www.footbridgemedia.com/contractor-articles/plumbing/79/dangers-of-gas-leak.html