RHS to receive Texas Bandmasters Association award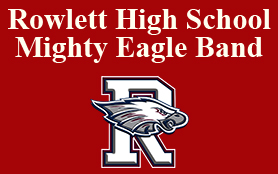 The award-winning Rowlett High School Mighty Eagle Band is about to enhance its packed display shelf with another shining trophy. The ensemble will receive the 2015 Exemplary High School Band Award by the Texas Bandmasters Association (TBA) later this month. Just two secondary schools in the state receive this honor every year.
"The Rowlett band is truly one of the most exemplary high school band programs in Texas," states a press release. "It has collected many awards throughout the years, and has been a consistent example of excellence over a long period. It has developed that reputation under the leadership of Director Phillip Alvarado and staff."
Alvarado, who recently left the district, shaped and strengthened the program over the past 18 years. Beginning with less than 100 members, the Mighty Eagle Band now boasts 260. As the largest organization on campus, it is responsible for positively impacting the lives of countless students.
"Students in band are also members of many other clubs, organizations and sports teams on and off campus," states the Mighty Eagle Band's website. "Being a member of the RHS band means you will receive a well-rounded education and surround yourself with others who share a passion for music."
Because of its hardworking students and strong leadership, RHS will become the first Garland ISD campus to join the elite group of Exemplary Band Award recipients. Just 18 Texas middle and high schools have received the honor since it was introduced in 2006.