Roach Feed & Seed celebrates anniversary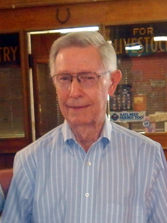 While young visitors sped past to reach the latest installment of caged bunnies and brown bags of sulfur were being tied up with trademark twine, Jack McDaniel beckoned guests to cupcakes and punch to celebrate a noteworthy birthday in Garland. His Roach Feed & Seed store in downtown Garland was observing its 84th anniversary Saturday, July 8, and Jack has been with the firm at 409 Main Street for 68 of those years.
"I think I'm the only one still around that's been in business this long," Jack stated proudly.
Though the cupcakes were inviting, some visitors popped in to simply soak up the "step-back-in-time" experience that occurs when shopping Roach Feed & Seed, which began as a grain business in 1933 and has expanded to high-end doggie biscuits and specialized rose spray, among numerous other inventory items.
Jack's father, Earl McDaniel, had partnered with Haskell Roach in the firm's early days. When Haskell died in 1991 (a precursor to the business had been started by Haskell's dad, W.H. Roach), Jack took over. Although he has capable associates to answer the most daunting gardening questions, among other tasks, Jack, 87, still maintains oversight and keeps business hours several days a week.
On Saturday, he seemed particularly pleased to have visitors such as the new Ms. Garland Senior America, Gale Wallace and former titleholder Sharon Whitlock among the party-goers. Jack was told that Gale's role is that of Garland's ambassador—a role Jack himself has filled for years, since customers come from all over to his legendary, tin-covered store.
Jack stepped out the back door momentarily to answer another guest's questions about an earlier Garland. Gesturing to the immedi
ate north, Jack identified a location just beyond city hall where he remembers a small grocery that served the black community decades ago, before city hall was built. A settlement of homes occupied by African-Americans was nearby. To the west, he noted, H.A. "Bud" Walker operated a cotton office before he became bank president and ultimately mayor.
Jack and his wife, Doris, were also former owners of Garland's Historic Pace House in its original location at North First and State Streets. Jack purchased the one-time farmhouse from the daughter of John Henry and Nina Pace and later donated it to the city of Garland, under whose auspices it was moved to near city hall and served as an event center from 1986 to 2013. In 2014 the Pace House was relocated to Garland's 11th Street, where it has returned to residential use. To an interested guest Jack recalled memories of John Henry Pace, whose sister, Rosa Belle, was the mother of Haskell Roach.
This "go-to" sage modestly demurs, however, when credited with being a bastion of encouragement for countless Garland causes and quickly passes off kudos to others.
Many would consider Jack McDaniel as the epitome of what Garland is, and what it needs to strive to be like in the future.
Roach Feed & Seed proprietor Jack McDaniel greets Gale Wallace, 2017 Ms. Garland Senior America (center) and Sharon Whitrock, right, former titleholder and recent pageant organizer. At left is Kay Moore of Garland's 11th Street.
Jack McDaniel, center, is a former owner of Garland's Historic Pace House when it was situated on First at State Street. With him are current Pace House owners Louis and Kay Moore. The dwelling now sits at 317 South 11th Street.