Suspect arrested in 7-11 robbery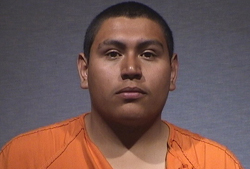 On July 15, the Garland Police Department responded to a robbery that occurred at the 7-Eleven located in the 3400 block of Forest Lane.  Detectives identified the robbery suspect as 19-year-old Pablo Paramo-Villagomez of Garland.
Paramo-Villagomez was arrested by the Dallas Police Department Sept. 23 after burglarizing a building in their city.  Garland detectives believe Paramo-VillaGomez may be involved in other offenses in Garland.
Paramo-Villagomez has been charged with Aggravated Robbery and is currently being held in the Dallas County Jail.
About Garland Police Department: The mission of the Garland Police Department is to enhance the quality of life for our community by reducing crime and the fear of crime. 
The members of the Garland Police Department shall seek to provide first-class public safety services for our community:
while maintaining the highest level of ethics, integrity, and accountability to the law-abiding citizens and stakeholders of Garland;
through fair and impartial enforcement of the law;
while working in partnership with all segments of our diverse community in proactive efforts to reduce crime and address conditions that may foster the fear of crime.
Click here for more information about the Garland Police Department.