HS football playoffs: Round 1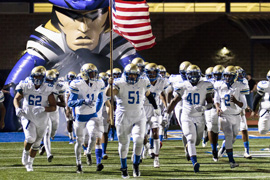 Photos submitted by Roger Mathis, www.mempics.com and Brad McClendon, www.bhmimages.com and Joe Diehl, www.jbdphotos.com.
Four of the Garland ISD high school football teams competed in bi-district contests Friday, Nov. 17. Sachse High School remained undefeated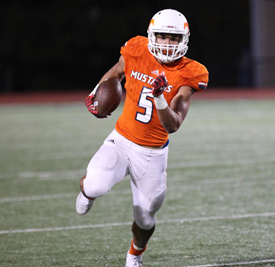 and will continue to the area round of the playoffs.
Mustangs defeat Lake Highlands
The Sachse Mustangs won the bi-district title with a 49-28 victory over Lake Highlands HS.
Christian Cole was the star of the game with 300 rushing yards and four TDs. Quarterback Jalen Mayden added a rushing TD on a 30-yard run. Mayden also connected with Drue Jackson on a 26-yard pass for a score and Jackson added another TD on a 20-yard run.
Mayden was 8-15 on t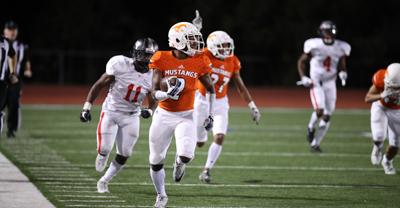 he game with 133 yards.
The Mustangs will play Rockwall High School Saturday, Nov. 25, at Allen's Eagles Stadium.
Rangers defeated in close contest
The Naaman Forest Rangers suffered a heartbreaking overtime loss in their bi-district contest against Richardson Pearce HS. The score was 27-21.
Jourdan Boze scored two TDs for the Rangers on 1- and 2-yard rushes.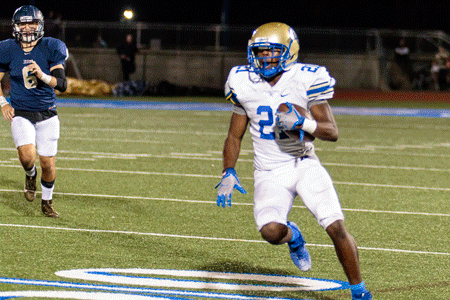 Daviciea McCartney scored on a 59-yard pass from quarterback Thomas Gutierrez.
Boze carried the ball 25 times for 101 yards and Gutierrez ended the night at 2-3 with 70 yards.
LCHS loses to Jesuit
The Lakeview Centennial Patriots were defeated by Jesuit HS 79-55.
Camar Wheaton carried the ball 22 times for an impressive 439 yards and scored five of the LCHS touchdowns on 43-, 81-, 67-, 51- and 70-yard runs.
Zikamein West scored for the Patriots on a 50-yard pass reception from quarterback Jarret Adams and Maurico Sneed got a TD on an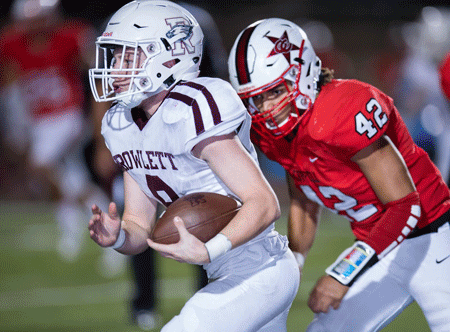 8-yard run. Te'Darius Herford added another score on a 2-yard run.
Adams ended the night at 9-16 with 106 yards. West caught four of Adams' passes for 137 yards.
Rowlett loses to Coppell HS
The Rowlett Eagles were defeated by Coppell HS by a score of 37-6.
The Eagles' score came in the fourth quarter on a 31-yard by Monyae Lang. He carried the ball 16 times for 139 yards. Chauncey Adams had 14 carries for 116 yards.