Rowlett to host First Responders Appreciation Gala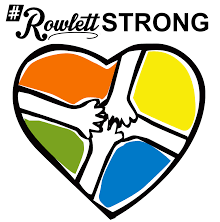 The First Response Appreciation Gala is Rowlett's way of thanking first responders that provided mutual aid from cities across North Texas and Oklahoma when Rowlett needed help the most. Rowlett is proud of its own police, fire, public works and Office of Emergency Management but the devastation was by far too much for them to handle and the mutual aid responders made a huge difference for our town.
We have reached the end of the recovery period for Rowlett residents displaced by the Dec. 26, 2015, tornado. Fundraising efforts have shifted to thanking those that came to our aid in our town's greatest time of need. The Rowlett Strong Foundation will be created to provide ongoing financial assistance to members of the police and fire departments that responded to Rowlett in the tornado aftermath. Grants will be available for any firefighter or officer who suffers injury, family emergency or death. Future fundraisers will be conducted to raise money for this purpose.
WHO: First Responders and general public from all over North Texas and Oklahoma
WHAT: First Response Appreciation Gala
WHEN: Saturday, July 15, 5:30 p.m. – midnight
WHERE: Hyatt Place Hotel, 5101 N. President George Bush Highway. in Garland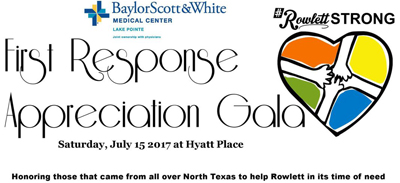 WHY: To thank the First Responders that came to Rowlett from across the area to help with the immediate aftermath of the 12-26-15 "Christmas Tornado" that devastated much of Rowlett and other cities in North Texas
HOW: With a big appreciation gala–food, music, dancing, silent auction, casino, guest speakers
Master of Ceremonies: Mayor Todd Gottel, now a candidate for Dallas County Commissioner
Guest Speaker: Chris Sommer, afternoon anchor on NewsRadio 1080 KRLD Dallas
Musical Entertainment: The Sandy Bates Band
Also appearing:   Rowlett Councilman Bruce Hargrave to present the Invocation
Cindy Burkett, Texas State Representative for House District 113
Tickets: firstresponsegala.eventbrite.com — Information: www.rowlettstrong.org — FB: www.rowlettstrong.com/first-response-appreciation-gala/