Rowlett HS grad completes basic training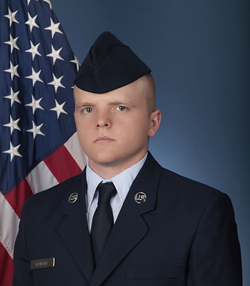 U.S. Air Force Airman 1st Class Colby C. Kendall, graduate of Roweltt High School, completed basic military training at Joint Base San Antonio-Lackland.
The airman completed an intensive, eight-week program that included training in military discipline and studies, Air Force core values, physical fitness, and basic warfare principles and skills.
Airmen who complete basic training also earn four credits toward an associate in applied science degree through the Community College of the Air Force.
Kendall is the son of Robert and Susan Kendall of Garland, Texas, and Carla and Tim Fuchs of Rowlett. He is also the husband of Ciara Kendall.
The airman graduated in 2014 from Rowlett High School and earned an associate degree in 2017 from Eastfield Community College.
About: The U.S. Air Force is the world's preeminent force in air, space and cyberspace. We maintain that distinction by maintaining our objective of global vigilance, reach and power and remaining true to our vision statement: The World's Greatest Air Force—Powered by Airmen, Fueled by Innovation. Through shared values, key capabilities and upholding our Airman's Creed, we continue to achieve our mission and aim high in all we do.
Mission: The mission of the United States Air Force is to fly, fight and win in air, space and cyberspace. Our rich history and our vision guide our Airmen as we pursue our mission with excellence and integrity to become leaders, innovators and warriors.
Vision: Our differences make us stronger. Our values make us one.