Signing day at Sachse HS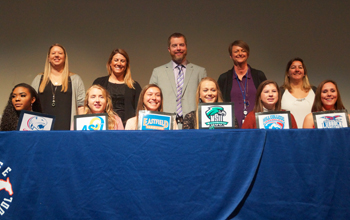 Sachse High School held a celebration in conjunction with National Signing Day Wednesday, Feb. 1. As Head Football Coach Mark "Red" Behrens introduced the student athletes, he expressed pride in their accomplishments.
"This is a special day for these students as they take the next step not only in their athletic careers but also in their lives," Behrens said. "We'd like to recognize them for their efforts on and off the field."
Behrens thanked all the coaches, teachers and administrators for helping to guide and support the student athletes.
Cross country – Amanda Godwin – Lubbock Christian University
Girls' soccer – Alyssa Guzman – Eastfield College
Girls' soccer – Megan Denn – Angelo State University
Girls' soccer – Emily Brown – Northeastern State University
Girls' basketball – Kelsey Crouse – Hill College
Volleyball – Meaghan Jones – University of South Alabama
Baseball – Chase Jones – Morton College
Baseball – Justin Lewis – Midland College
Baseball – David Renning – University of Texas at Arlington
Track – Nick Alexander – University of Houston
Football – Nate Shelton – Texas Tech University
Football – Kelon Wilson – Delta State University
Football – Zach Foster – Southern Arkansas University
Football – Tony Krasniqi – University of North Texas
Football – Riko Jeffers – Texas Tech University