Sachse Mustangs advance in playoffs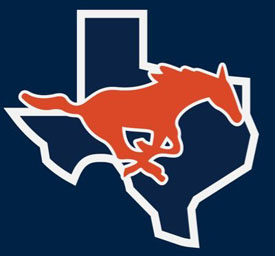 Saturday, Nov. 25, marked a milestone for the Sachse Mustangs. For the first time in school history, the Mustangs made it past the second round of the playoffs to take the 6A Division 1 area title in a game against Rockwall HS. The score of the overtime win was 24-17. As indicated by the score and the need for overtime, the teams were closely matched and Rockwall HS held the Mustangs to their lowest number of points scored in a game this season.
Two spectacular Mustang catches, one by Derrick Rose and the other by Trent Dean, made a significant difference in the outcome of the game. On defense, Micah Buchanan prevented a Rockwall TD when he got a game-changing interception in the end zone.
SHS started the scoring with a 33-yard field goal by Payton Reyes but Rockwall took the lead at the end of the first quarter on a 2-yard run and the score was Rockwall-7, Sachse-3.
The lead shifted back to the Mustangs in the second quarter when quarterback Jalen Mayden got into the end zone on a 2-yard run and brought the score to Rockwall-7, Sachse-10
Rockwall HS took the lead again in the third quarter on a short run, bringing the score to Rockwall-14, Sachse-10.
Rockwall added another score on a 32-yard field goal in the fourth quarter and the score was Rockwall-17, Sachse-10 with about four minutes left in the quarter.
Mayden took the ball into the end zone on a 1-yard run to tie the game at 17 all with just over two minutes left in regulation play.
Rockwall wasn't able to score against the Mustang defense and the game went to overtime. Rockwall had first possession in overtime but didn't score and when the Mustangs got the ball, Derrick Rose caught a 24-yard Mayden pass to win the game.
Mayden threw for 179 yards and rushed for 98 on the game. Christian Cole collected 184 rushing yards.
The 12-0 Mustangs will face Pflugerville Hendrickson in the regional round of the playoffs Saturday, Dec. 2, at 2 p.m. at Waco ISD Stadium.