Safety Fest draws large crowd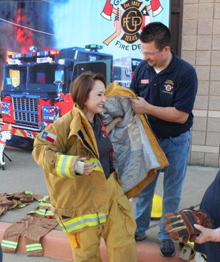 The Garland Fire Department's Safety Fest drew 1,400 visitors this year, an increase of 500 from the 2016 event.
According to Merrill Balanciere of the GFD, the department received positive feedback from the visitors.
There were activities for everyone to enjoy and lots of safety information to be learned. Children enjoyed the Home Depot craft booth, balloon artist, face painting, Kids Books at the Half Price Books booth and games. They also had an opportunity to explore a fire engine, ambulance, police and SWAT vehicle. The GISD Reading with Rodney Mobile Library was also on hand for the event. Many kids had a photo taken in firefighter gear. There was also a fire truck slide, fire related obstacle course and rescue heroes course for the kids.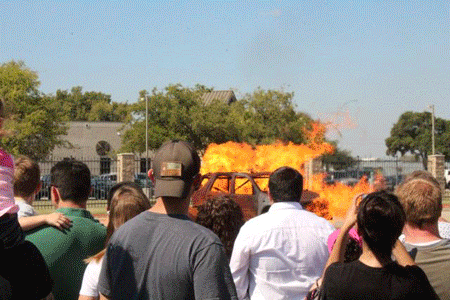 Demonstrations included a Garland Power & Light arcing demo, a car fire simulation, cpr and search and rescue demonstrations as well as a helicopter landing.
This free event is held annually to educate the public on fire and home safety.
About GFD: The Garland Fire Department is dedicated to protecting lives, property and the environment of Garland. Thank you for visiting our website. Here you will find useful information about home fire safety, disaster preparedness and fire department services.
Mission Statement:
The mission of the Garland Fire Department is to serve and protect the citizens and business community of Garland through Fire Prevention, Emergency Medical Response and Public Education, as well as quick and effective response for fire suppression and disaster management. We respond immediately when any member of our community needs help with professional, effective and compassionate service.
Photos furnished by the Garland Fire Department.