Schrade MS teacher wins Badough-Metts Scholarship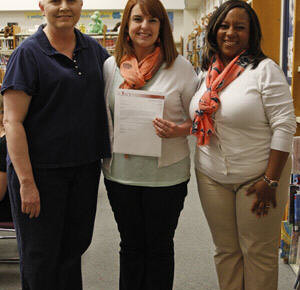 Schrade Middle School teacher Lauren Craft received a pleasant surprise during a staff meeting in April. The sixth-grade social studies teacher was awarded the Michelle Badough-Metts Memorial Scholarship, a gift that will help her pursue a master's degree in library science.
"I was so thankful and honored when I learned that I was this year's recipient," Craft said. "I felt energized by the award, as well. I am inspired to make sure I represent the purpose of the scholarship well in my future role as a school librarian."
Sponsored by the Garland ISD Education Foundation, the Badough-Metts Scholarship awards $500 to one district teacher or librarian who is working on a library certification or degree. Inspired by her mentor and mother—both GISD librarians—Craft was one of six hopeful applicants this year.
"I applied for the scholarship because my mentor, Schrade Middle School librarian Pam Drummond, and my mother, Williams Elementary School librarian Jan Craft, suggested I do so," she explained. "I was excited to learn that there was a scholarship specifically geared toward teachers pursuing their master's in library science."
After reviewing all six applications, a committee of three district librarians determined Craft best exemplified excellence in librarianship or library training. Named the 2014-15 honoree, Craft believes this distinction motivates betterment in her field.
"I feel like these scholarships are a way for GISD to show support for teachers who are actively pursuing their career goals," she commented. "I think it is important for the GISD Education Foundation to continue to sponsor this type of scholarship, which promotes the continued professional growth of teachers."
To learn more about the Badough-Metts Scholarship, or other professional scholarships, visit the Education Foundation's website.