Senior Summit Luncheon honors top 2015 graduates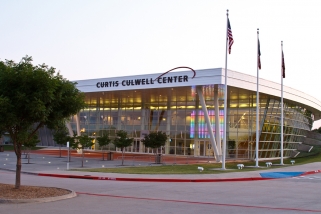 Honoring the district's top graduates, Garland ISD held its annual Senior Summit Luncheon May 19. The top 10 from each high school, as well as two top seniors from Memorial Pathway Academy, were invited to celebrate with their families and a teacher who most influenced their educational career. Superintendent Bob Morrison kicked off the soiree by commending students for their dedication to academic success.
"Leading the Class of 2015 not only reflects on your hard work this year, but every day since you started school," he said. "We take pride in your accomplishments and look forward to seeing your continued success in the future. It is our pleasure to recognize you and those who helped get you here today—your parents and honored guests."
Following Morrison's remarks, Board of Trustees President Rick Lambert congratulated the seniors and spoke about GISD's commitment to providing exceptional education, which can be seen through the bond program's focus on new technology and school renovations. A video also featured the graduates explaining their plans for the future and the impact of their influential teacher. Linda Chance, deputy superintendent of instruction, closed the ceremony by challenging students to achieve their dreams.
GISD graduations will be held June 4-6 at the Curtis Culwell Center.