September: Baby Safety Month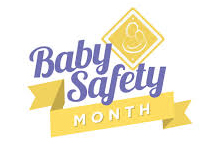 September is Baby Safety Month and this second article in a series on baby safety will recognize the organization that is responsible for this month being dedicated to baby safety issues and education. 
The Juvenile Products Manufacturers Association, Inc., which was formed in 1962, works with consumers, manufacturers and the U. S. Consumer Product Safety Commission to develop and enforce safety standards for babies' and children's products.
Parents can purchase products that carry the JPMA seal with confidence because with the seal comes the guarantee that the products were designed and built in accordance with strict safety standards.
The group works closely with government officials, industry leaders and consumer groups to educate parents and caregivers in selecting the safest products.
This installment of the baby safety series contains an overview of tips about some of the most common baby furniture/equipment items. 
For a more comprehensive list, visit www.jpma.org.
Changing Tables
Purchase a table with elevated sides to help prevent baby from falling.

Never leave baby unattended on changing table, even for a second.

Gather all necessary items – diapers, wipes, ointment – before placing baby on table.

Use restraint system if table is equipped with one. 

Keep one hand on baby at all times.
Bassinets/Cradles
Ensure that bassinet has a sturdy bottom and a wide base.

Follow manufacturer's guidelines regarding appropriate weight and size of baby using bassinet/cradle.

Do not use extra padding or pillows and be sure mattress fits snugly in bassinet.
Strollers
Always use stroller's restraint system.

Use the brake to keep stroller from rolling.

Engage locking device so that stroller will not fold up accidentally.

Do not hang items on stroller handles.
Swings
Ensure that swing has sturdy construction and that base is wide enough to prevent tipping.

Do not leave baby unattended in swing.
High Chairs
Always use chair's restraint system.

Secure safety latch on folding high chair.

Ensure that high chair is far enough away from walls, counters and furniture so baby cannot push off from them and tip over.

Do not leave baby unattended in high chair.
Portable Hook-on Chairs
Check stability of table before using.

Never use a portable hook-on chair on glass tabletops, tables on a single pedestal or table leafs.

Do not use over placemats or tablecloths.
Bouncer Seats
Never place seat on soft surfaces such as beds or sofas.

Do not place on any elevated surfaces like countertop or table.

Follow manufacturer's guidelines regarding baby's weight and size.

Remember that baby's bouncing can cause seat to move.  Use care where seat is placed.

Do not leave baby unattended in bouncer seat.
Walkers
Purchase a sturdy walker that is appropriate for baby's size and weight.

Use walker only on smooth, level surfaces.

Keep stairways blocked and doors closed.

Remove throw rugs while baby is using walker.

Keep baby away from appliances that could cause injury – radiators, ironing boards, ovens, fireplaces.

Do not leave baby unattended in walker.

Do not carry walker while baby is in it.

Return product registration cards for all baby items in order to be advised of safety recalls.