'The Servant's Last Serve' delivers fun, laughter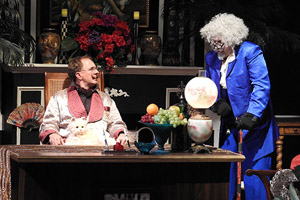 Garland Civic Theatre's production of "The Servant's Last Serve" is filled with laughter, making it the perfect way to escape the stresses of real life and enjoy a couple of hours of pure fun.
Written by John and Karl Kaasik, "The Servant's Last Serve" is set in the early 20th century. It is the story of a cranky, aging billionaire, Sir Winston Livingston (Mark Massey), and how he gets his affairs in order after being given only a few months to live. When his servants, along with his greedy niece, Meredith, realize that he has left most of his worldly riches to his cat, Master Fifi, they begin planning to do away with the cat.
In lieu of money, Livingston's will includes bequests such as a quill pen to Meredith (Brandy Townsend), the cutlery to Esther, his cook (Adriana Hardy) and the contents of the cleaning closet to Gladys the maid (Laura Blenk).
The script is rich with hilarious lines for each character and all are effectively delivered.
Inspector Woodmore, (Jacob Drum) tells Meredith, "Young lady, I'm afraid you are revealing your close relationship with deception." Meredith replies, "But I've never even met him."
Livingston's delivery of another great line is spot on. "Just make yourself at home while remembering it's not."
Meredith also declares, "I'll slap you to the other side of hell."
The remainder of the comically talented cast includes Evan Figg as Doctor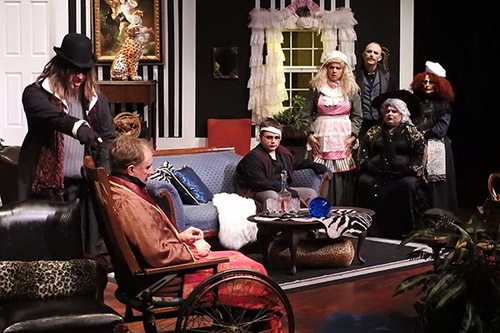 Bradsworth, Brian Hokanson as Leonard the butler, and Hayden Sparks as Edgar the gardener.
The production is directed by Kyle McClaran. The set was designed by McClaran and Joshua Hensley.
If you love to laugh don't miss this opportunity!
Order tickets at www.garlandartsboxoffice.com or call the Granville Arts Center box office at 972-205-2790. Garland Civic Theatre's 2016–2017 season sponsors include the Garland Cultural Arts Commission. For more information, visit www.garlandcivictheatre.org or call 972-485-8884.
Performances run through Saturday, March 18, in the small theatre at the Granville Arts Center at 300 North Fifth Street in Garland. Performances include Friday and Saturday evenings at 8 p.m. and Sunday matinees, March 5 and 12, at 2:30 p.m.