Show Garland pride, help tornado victims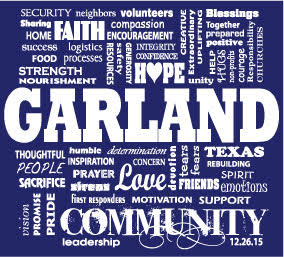 The true meaning of 'community' often becomes evident in the wake of tragedy and the people of Garland have exemplified that since Dec. 26, 2015 when the deadly tornado ripped through Garland leaving catastrophic devastation.
The spirit of giving and helping has been evidenced countless times and in countless ways. Corporations, nonprofits, churches, clubs and individuals have given selflessly of their time and money to support and help our affected neighbors. City of Garland staff, including first responders, has worked countless hours to organize assistance programs and volunteers and provide support for the victims.
The Payton Group at 618 W. State Street in downtown Garland has joined in the giving by designing a sweatshirt and long-sleeved T-shirt that describes the spirit of the people of Garland. Words including faith, pride, community, strength, hope, thoughtful, sacrifice, prayer, and many more surround the word GARLAND on the design. The shirts are navy blue with white imprint.
The shirts are being sold, $20 for sweatshirts and $15 for long-sleeved T-shirts, to raise funds which will be donated to The Salvation Army of Garland and Good Samaritans of Garland, Inc., two of the non-profits who continue to tirelessly serve the storm victims.
Show your Garland pride and help your neighbors by calling 972-494-0616 or emailing pg@thepaytongroup.com to purchase a shirt.
Thanks to The Payton Group for organizing this community service project.
About The Payton Group:  The Payton Group works with clients to develop effective use of promotional products and logo apparel.  Collateral pieces distributed to customers, associates, prospects or employees should reflect the character and values of the business or organization. The Payton Group's goal is to meet those standards so that the end result will add value to their client's brand.
Our mission: To help / to inspire / to know / to grow / and to have fun doing it!
For more information, visit www.thepaytongroup.com.