SHS athlete plays in Semper Fidelis All-American game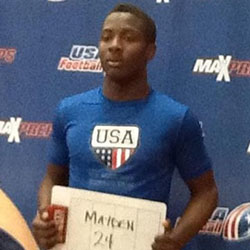 Sachse High School student athlete Jared Mayden was recently selected to play in the Jan. 3, 2016 Semper Fidelis All-American game.  A Semper Fidelis All-American representative recently visited SHS to present Mayden an honorary game jersey.
"It is an honor to be selected to compete in the Semper Fi game because it is another way I can honor my grandfather Donald Pierson who served in both the Marines and the Army for 28 years," Mayden said. "He has been struggling with health issues and has recently lost his sight. This news has really gotten him excited."
Beginning at the age of 4, he played football in select leagues, the Garland PeeWee League and the West Mesquite Stampede select league before participating in the athletic program at Shrade Middle School. In addition to playing football at SHS, Mayden has also participated in track/field and basketball since his freshman year.
Finding a balance between numerous priorities can sometimes be a challenge and schoolwork, athletics, training, recruiting and other events requires a huge time commitment. Jared credits his family for being supportive as well as his teachers who have been helpful. He added that knowing what his goals are helps when frustration sometimes sets in.
He has no doubt that the hard work is worth it and is fortunate to have numerous examples of the success that hard work can bring. Mayden has been influenced by his parents, grandparents, siblings and others.
"There are so many reasons why working so hard in every area in my life is important and most of them are within my faith in God, love and respect of my family and my desire to be great," Mayden said. "I don't have to look outside my family for great examples of how great life can be with determination and intelligence. If you have ever met my granny, Alberta Pierson, you would know, too."
During the July Nike Opening Invitational, Mayden committed to the University of Oregon on ESPN.
"It was a dream come true and an awesome event," he said.
He is leaning toward studying secondary education but said that he's leaving his options open.
The Semper Fidelis All-American game will be televised live Jan. 3 on Fox Sports 1 at 8 p.m. central time.
Semper Fidelis distinguishes the Marine Corps bond from any other. It goes beyond teamwork—it is a brotherhood that can always be counted on. Latin for "always faithful," Semper Fidelis became the Marine Corps motto in 1883. It guides Marines to remain faithful to the mission at hand, to each other, to the Corps and to country, no matter what. Becoming a Marine is a transformation that cannot be undone, and Semper Fidelis is a permanent reminder of that. Once made, a Marine will forever live by the ethics and values of the Corps. In addition to Semper Fidelis, Marine Corps Officers also embrace the phrase Ductos Exemplo, "to lead by example," the motto of Officer Candidates School (OCS). Instructors look for candidates who display self-reliance, discipline and responsibility. Desire and motivation to lead Marines are deciding factors in an officer's success. http://www.semperfidelisfootball.com/meaning.